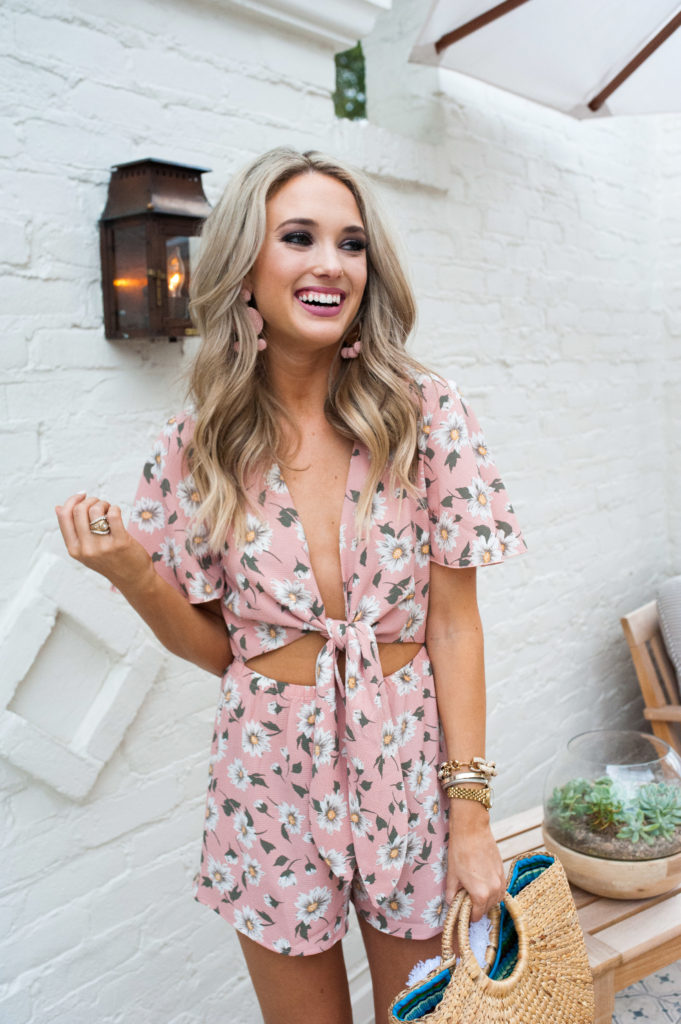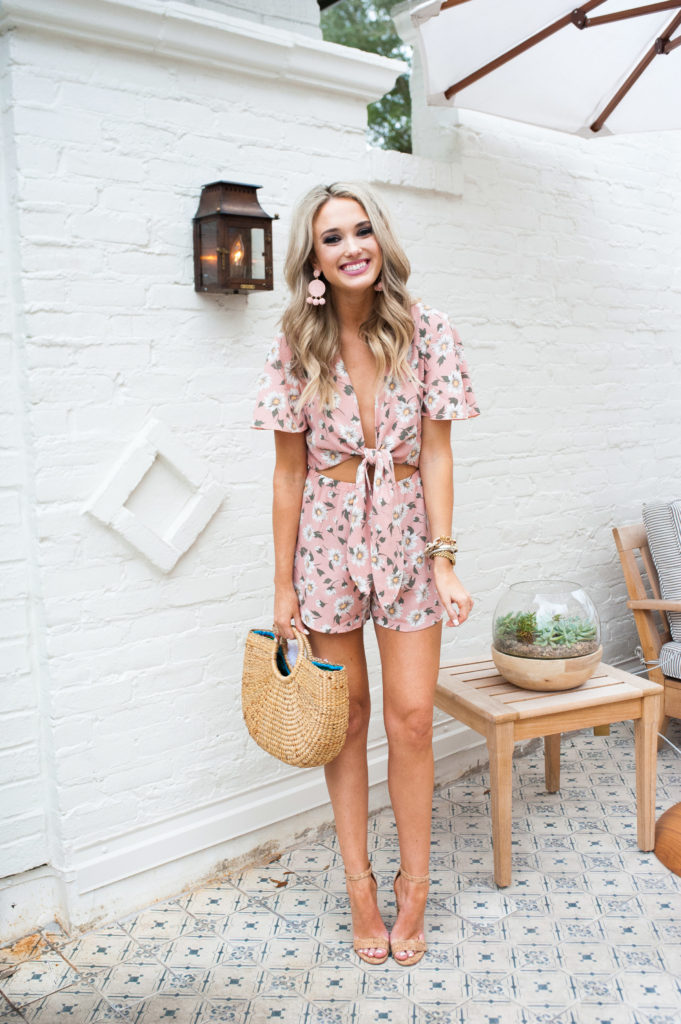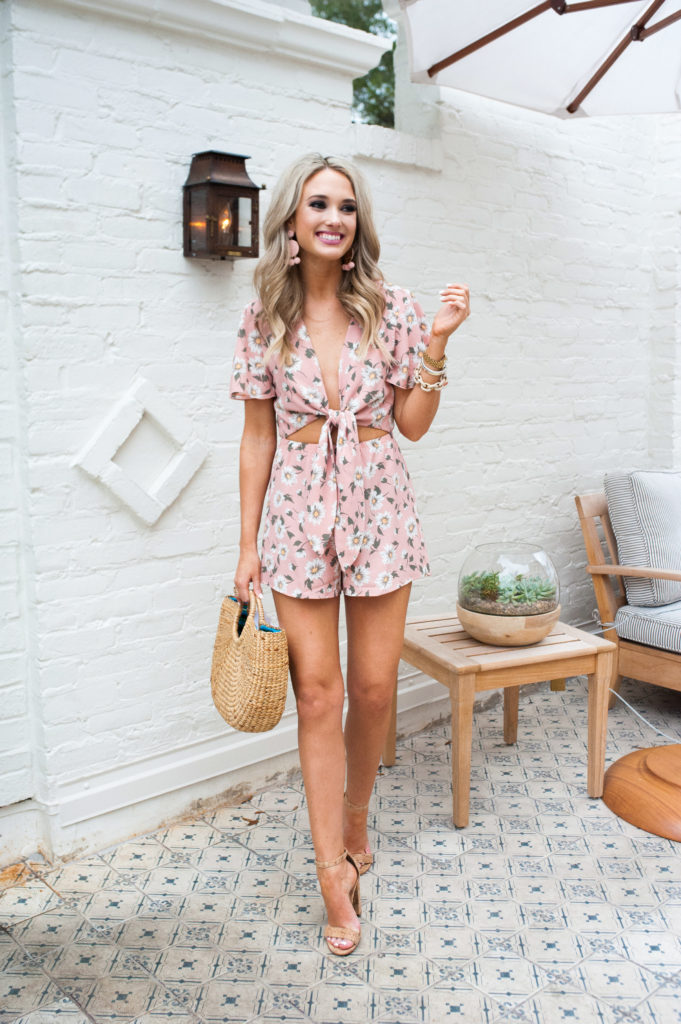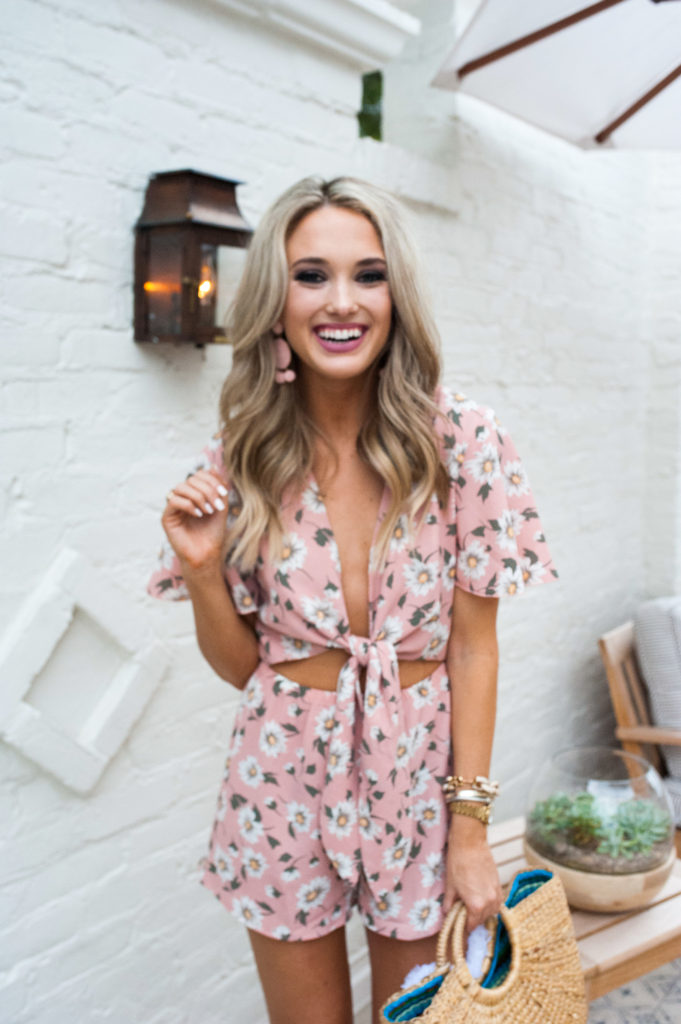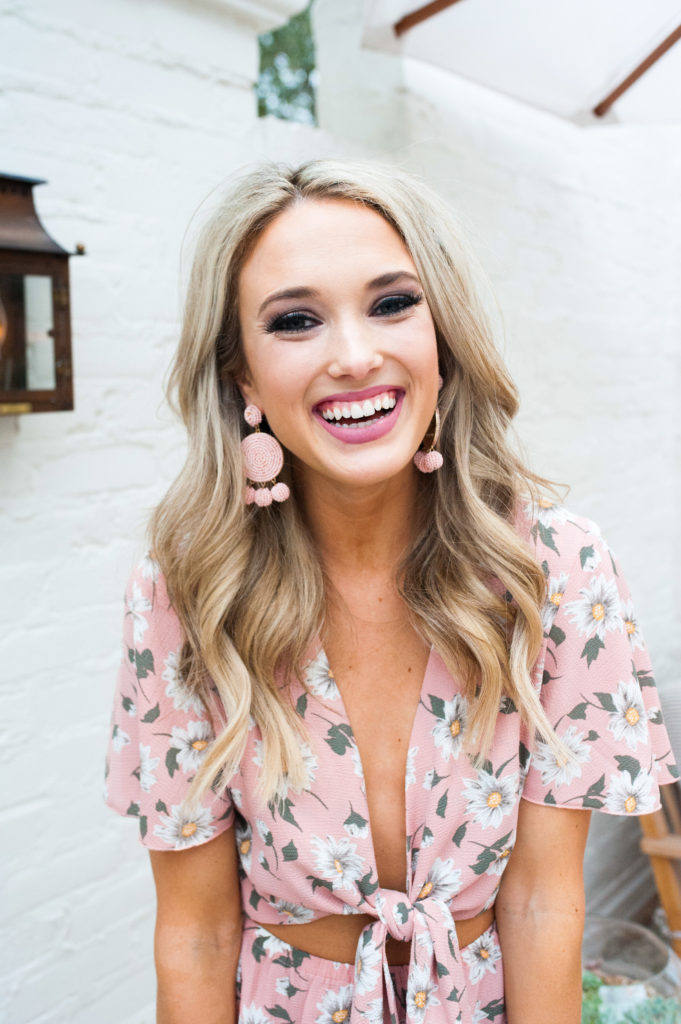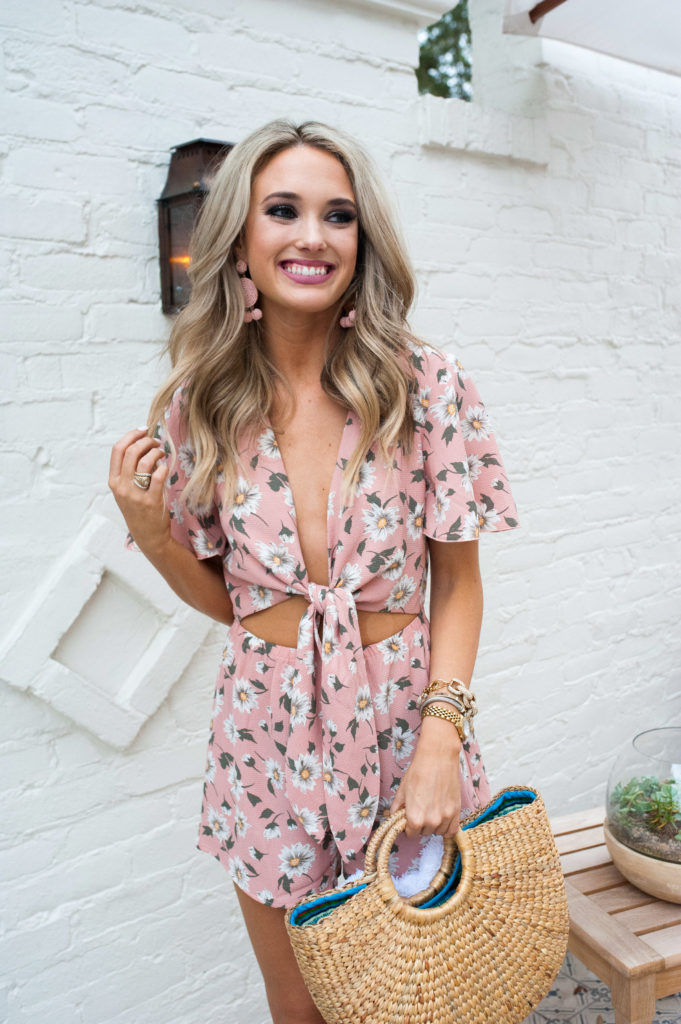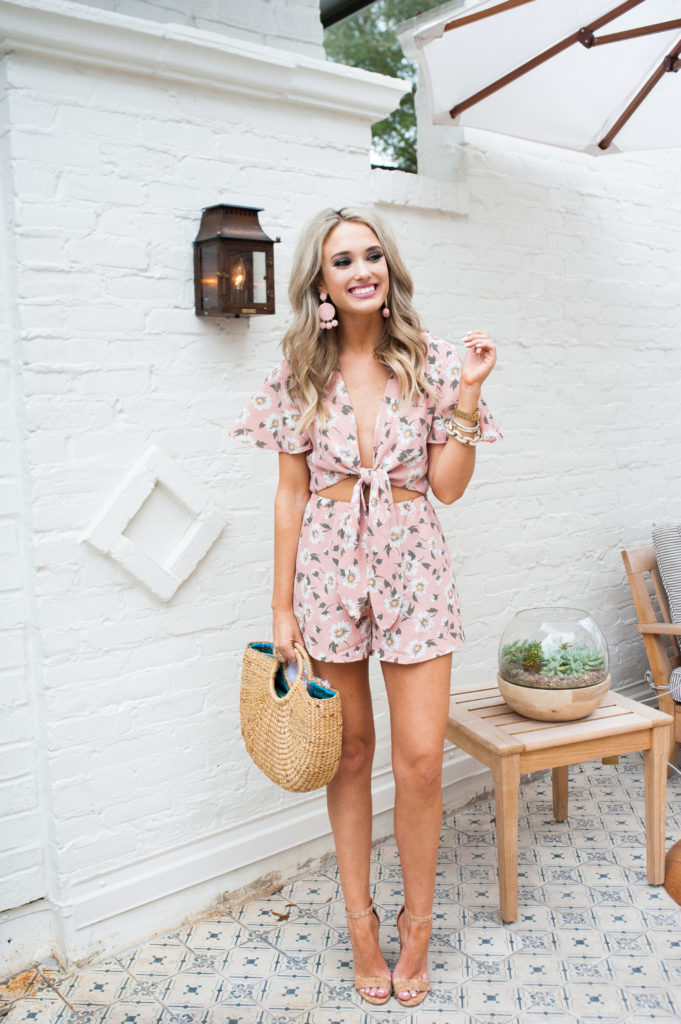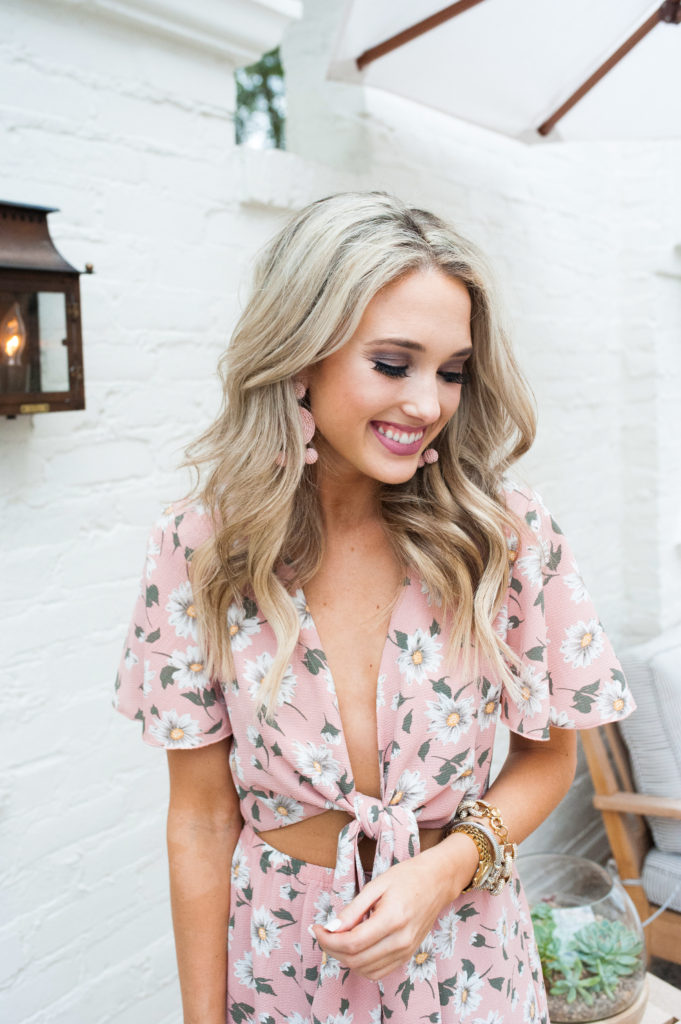 Romper: Show Me Your Mumu | Earrings: BaubleBar | Heels: Similar
Hair Products: Curling Wand: T3 (1.5″ barrel) | Blowout Spray: Oribe | Texture Spray: Oribe | Hairspray: R+Co
Well, now that spring is right around the corner, I am SO excited for warmer weather.  I'm not, however, so excited for the humidity that comes along with it. There's nothing worse than spending 45 minutes perfecting my curls then walking outside for them to fall flat in under a minute! While there's no way to 100% guarantee this won't happen, I thought I would share some products with y'all today that have certainly helped! I'm going to warn you… most of these products are splurge items but I believe, when it comes to hair care it's so worth it! If some of these products are a little too much of a splurge for you, Nordstrom has TONS of different brands of hair products that you can shop here. When I'm trying to stick to a budget, I just go to the price option on the left sidebar and select the price range that I want to stay in!
The first, and in my opinion the most important, thing that I recommend is to have a high quality curling iron/wand. I recently switched to a T3 because SO many of my friends/other bloggers recommended it and I have truly noticed a difference (I use the 1.5″ barrel.) I can curl my hair on Monday and not even have to touch up on Tuesday because the curls still look amazing!
If you have problems with your hair frizzing and not staying smooth, you have to try the Oribe Blowout Spray. I apply this before I dry my hair and not only does it help with frizz, but is also cuts my dry time in half (hallelujah!!!)
I always like to have volume in my hair, so to keep it from falling flat in the humidity, I use a texture spray by Oribe (lol that rhymed.) If you like to have textured waves instead of perfect curls, you will LOVE this product! I actually bring it to photoshoots with me to touch up in between looks.
Last, but certainly not least, you'll need a good hairspray to finish off your look. As I said in my previous post, I was in Charleston last weekend (which is also a humid city) and I was with one of my friends from LA. She didn't even pack hairspray because she wasn't used to that type of weather at all. I can't even imagine never having to use hairspray since I use it every single day! I have tried TONS of different hair sprays and my current favorite is the Structure Hold Setting Spray by R+Co!
I hope some of these tips help you have the best hair day!! Y'all have a great rest of the week (: