Archives for April 2016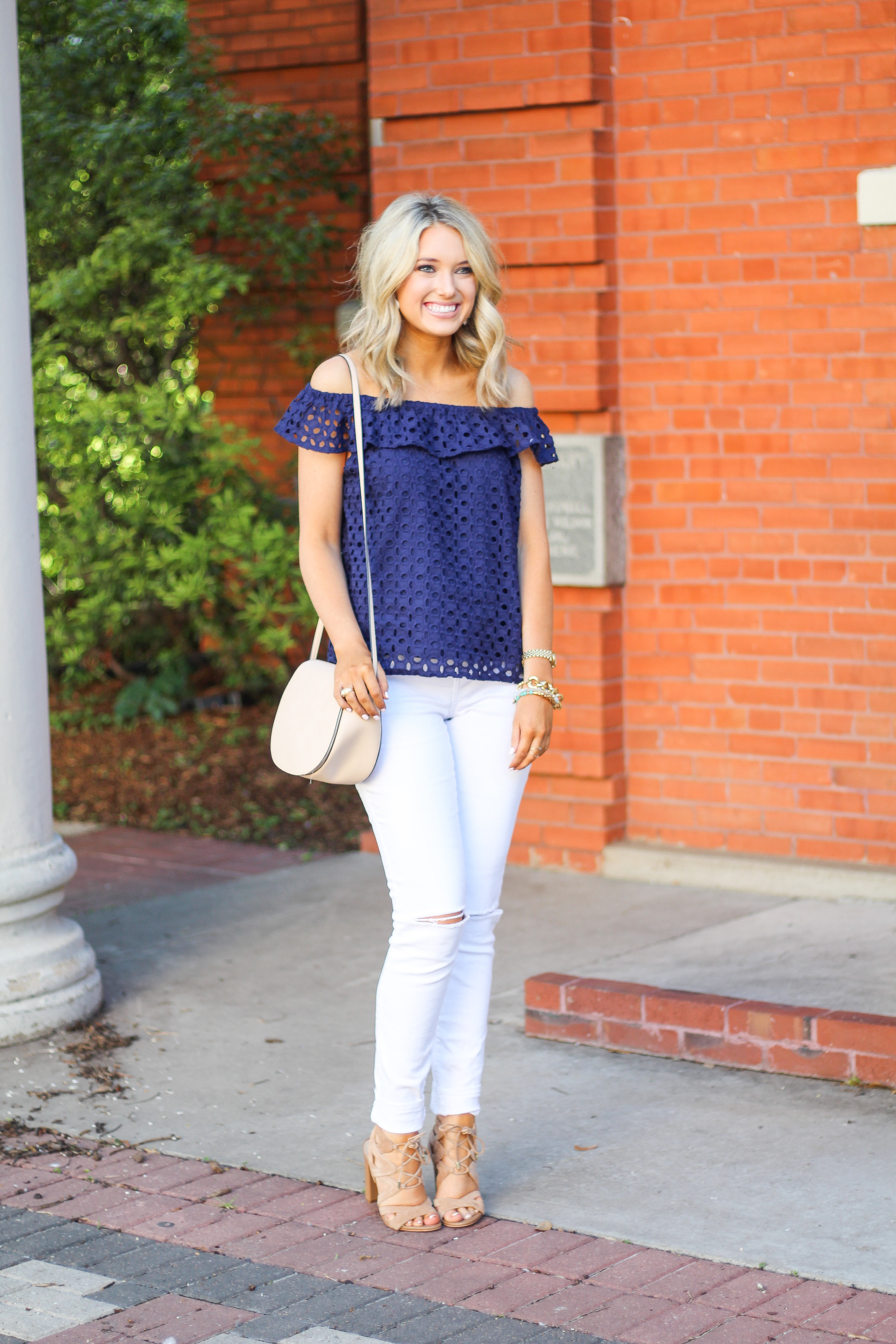 [Read more…]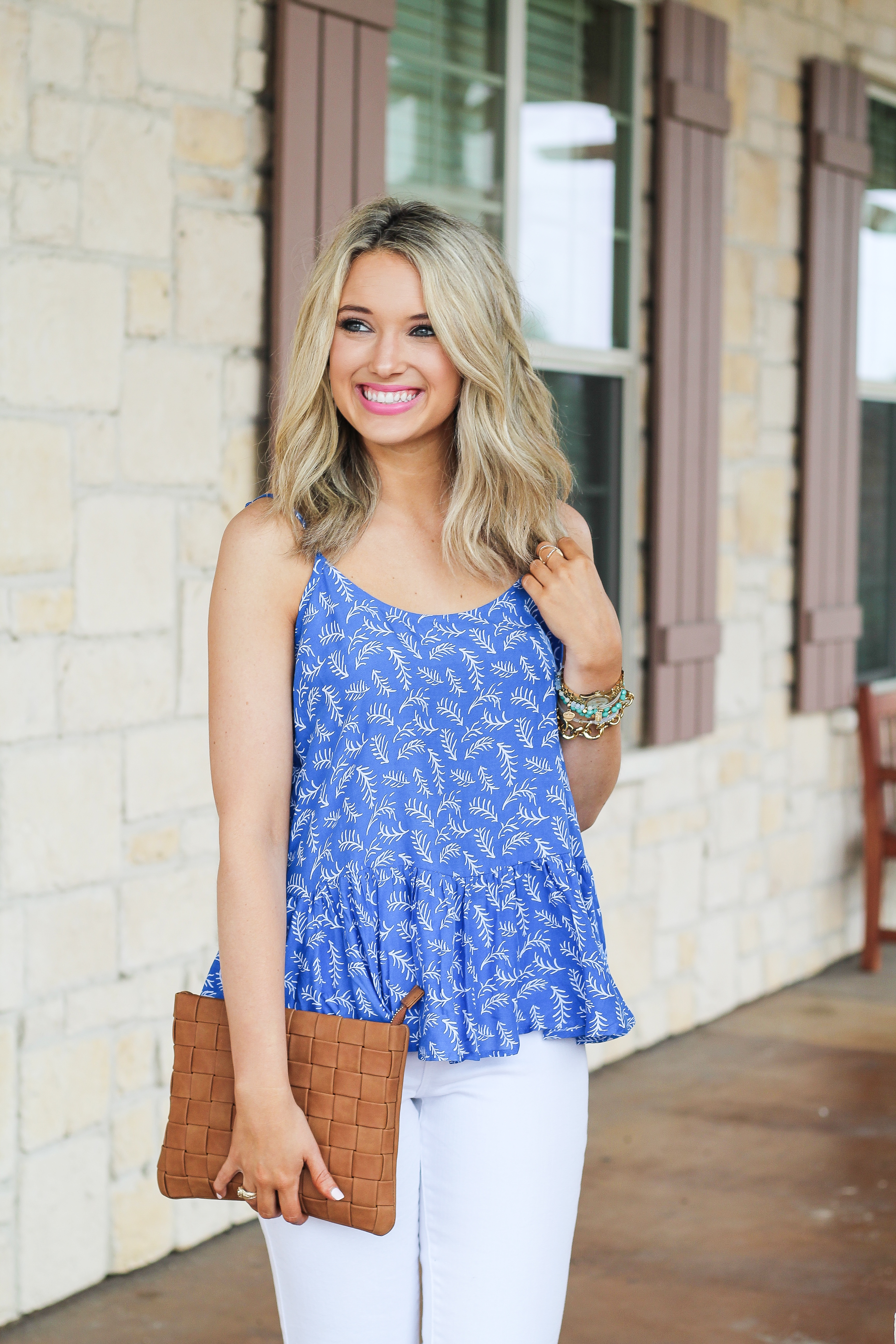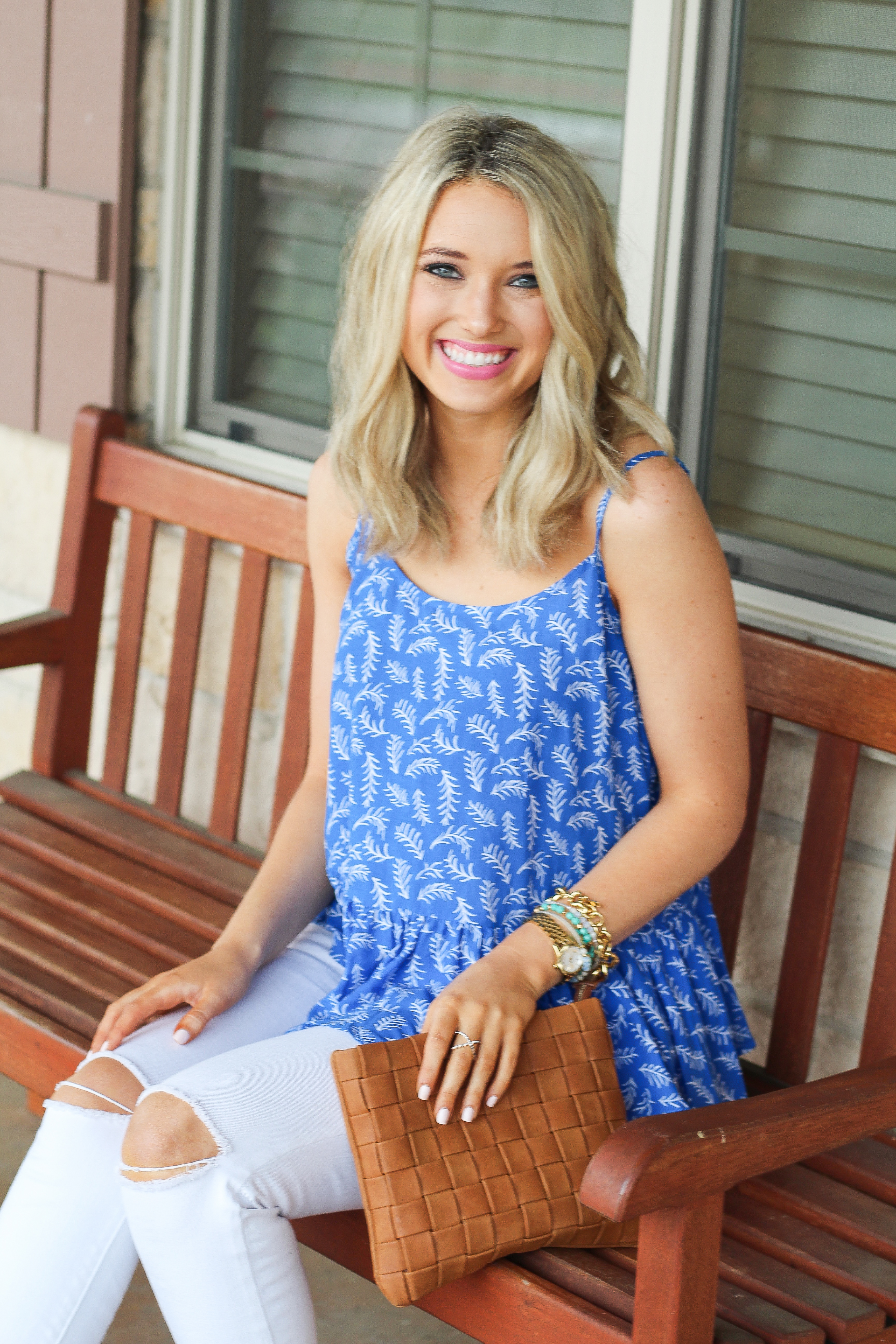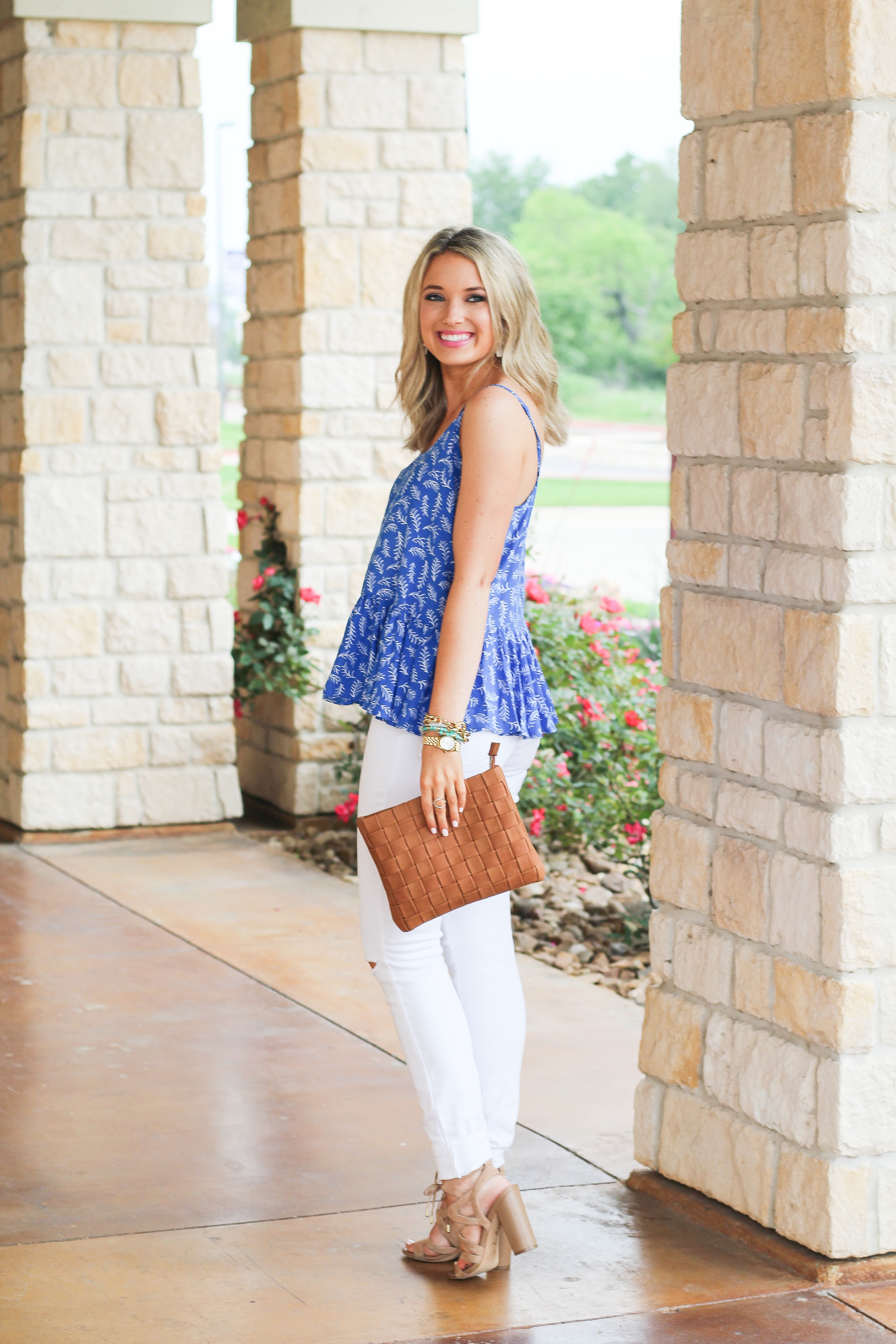 Top: Old Navy | Jeans: Nordstrom | Clutch: Target | Shoes: Nordstrom | Lipstick (in Pink Nouveau): MAC | Watch: Michael Kors | Bracelet: Bauble Bar 
I know Monday's can be a little tough so I thought I would share a top that will brighten up your day (CAUSE IT'S LESS THAN $10!!). I seriously could not believe the price tag when I picked this up. I paired it with my favorite white jeans (that are also pretty inexpensive) and a pink lip (the color is linked above). This look is so easy and perfect for a casual outing.
P.s- I'm super excited to share that I'll be filming a hair tutorial next weekend! This will be my first tutorial so I hope it goes well!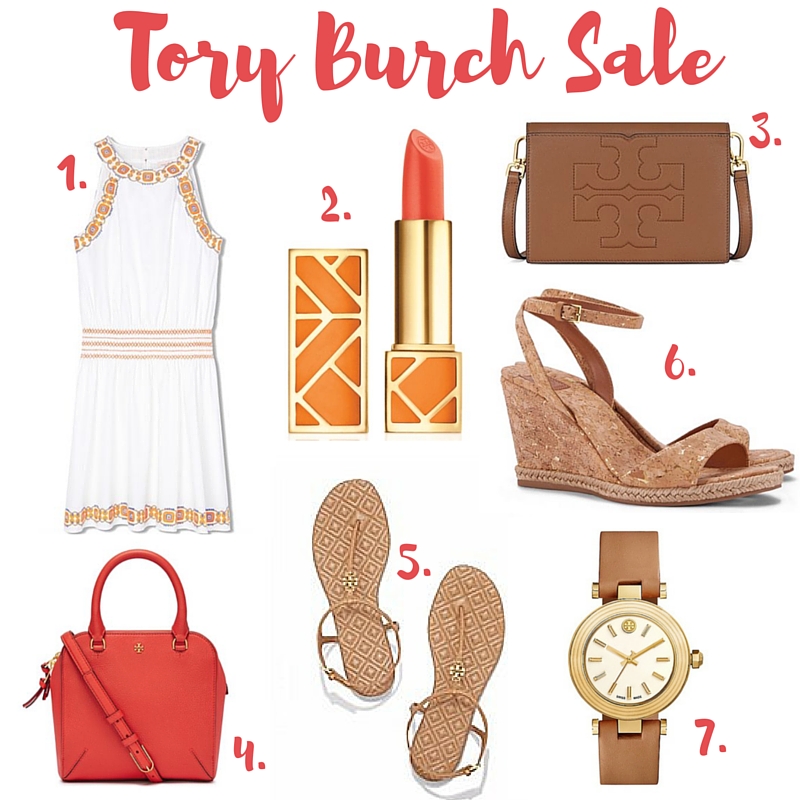 One | Two | Three | Four | Five | Six | Seven
It's FINALLY here!! One of the best sales of the spring is going on right now! I have linked my top picks in the picture above. I haven't decided exactly what I am going to purchase yet but I have a feeling it's going to be the espadrille wedges (Number six)… they are too cute! But I'm also OBSESSED with Robison Pebbled Mini Satchel (Number four). It's going to be a tough choice this year! Let me know what y'all end up purchasing from the sale.. I'd love to see your picks!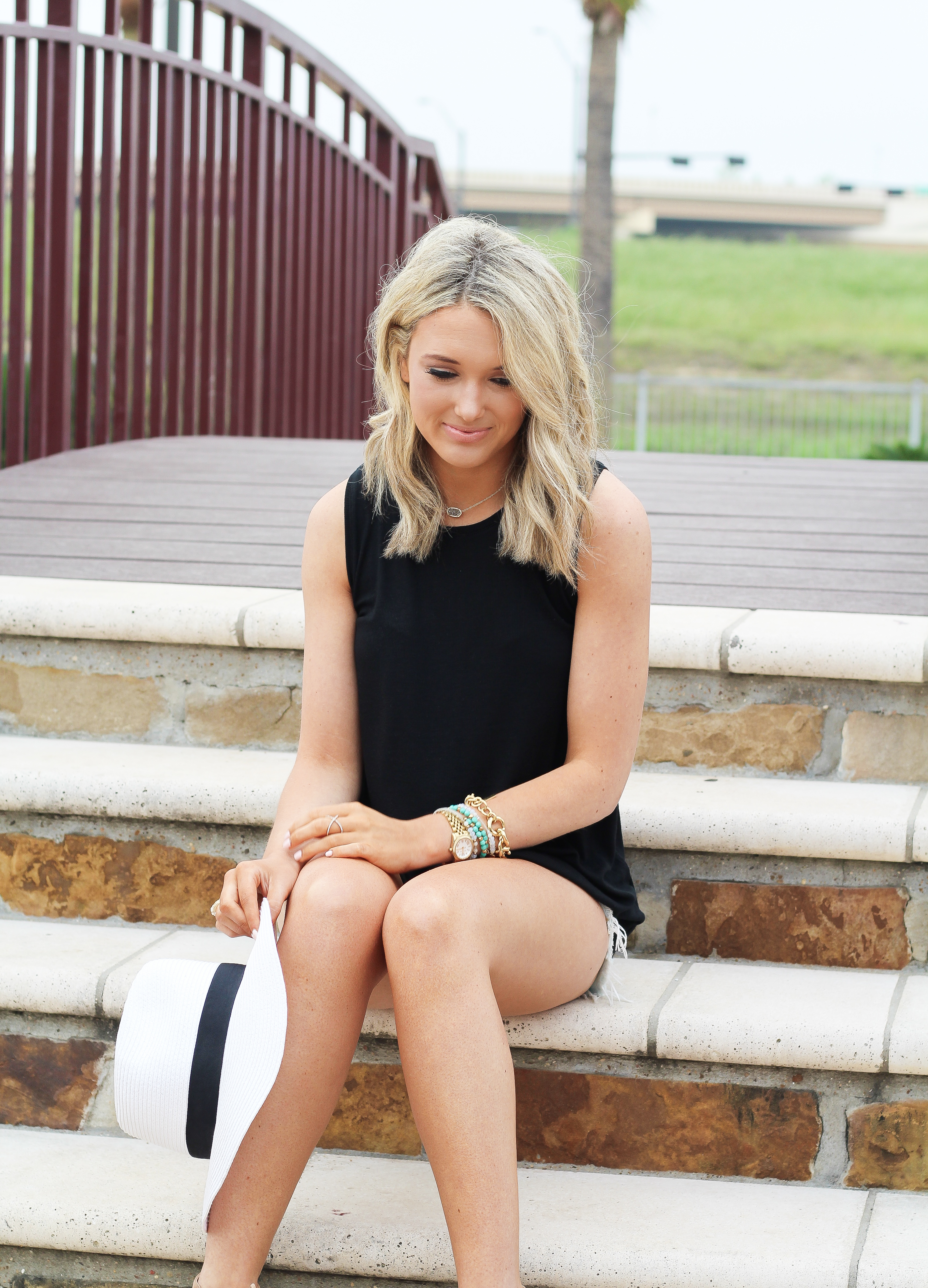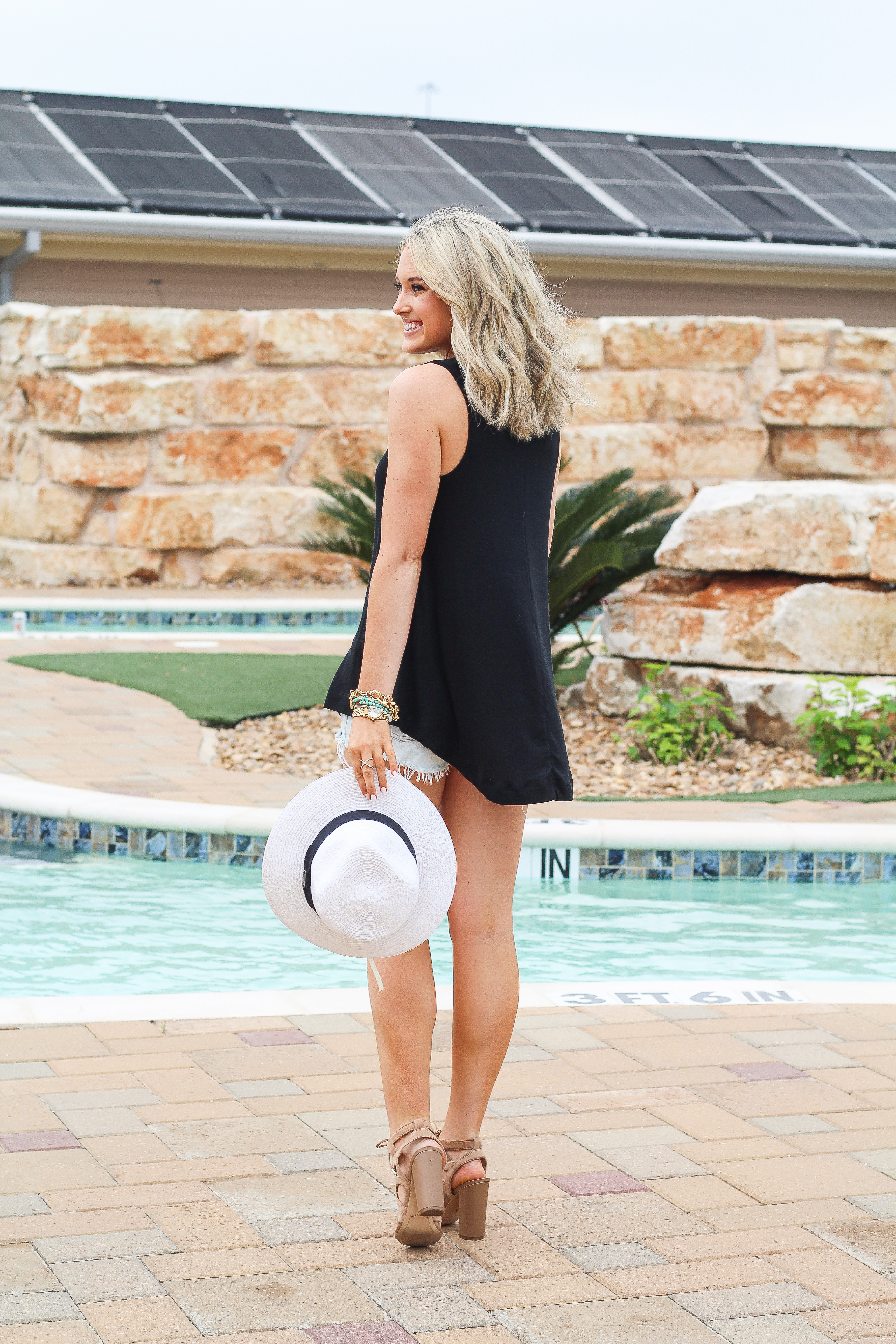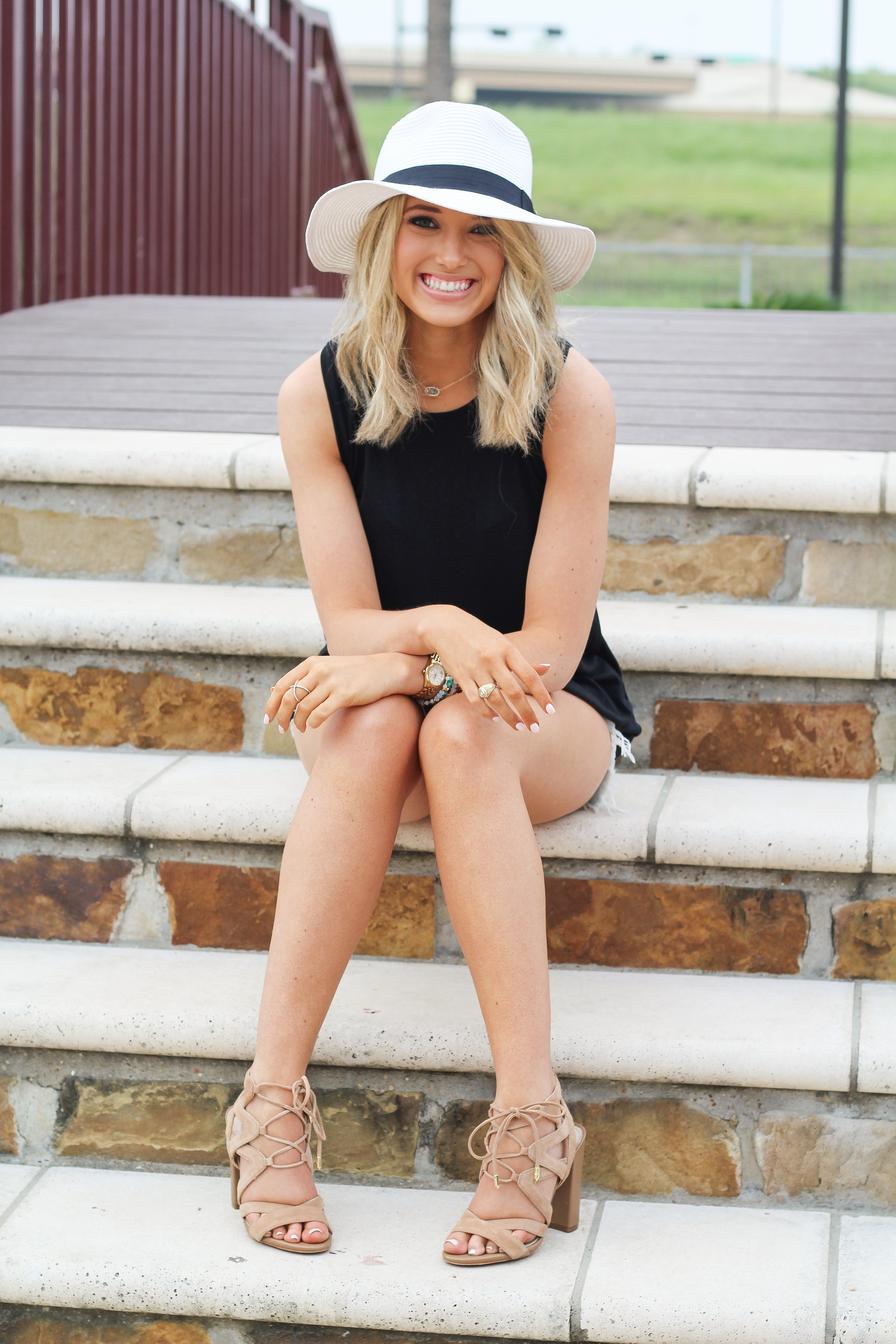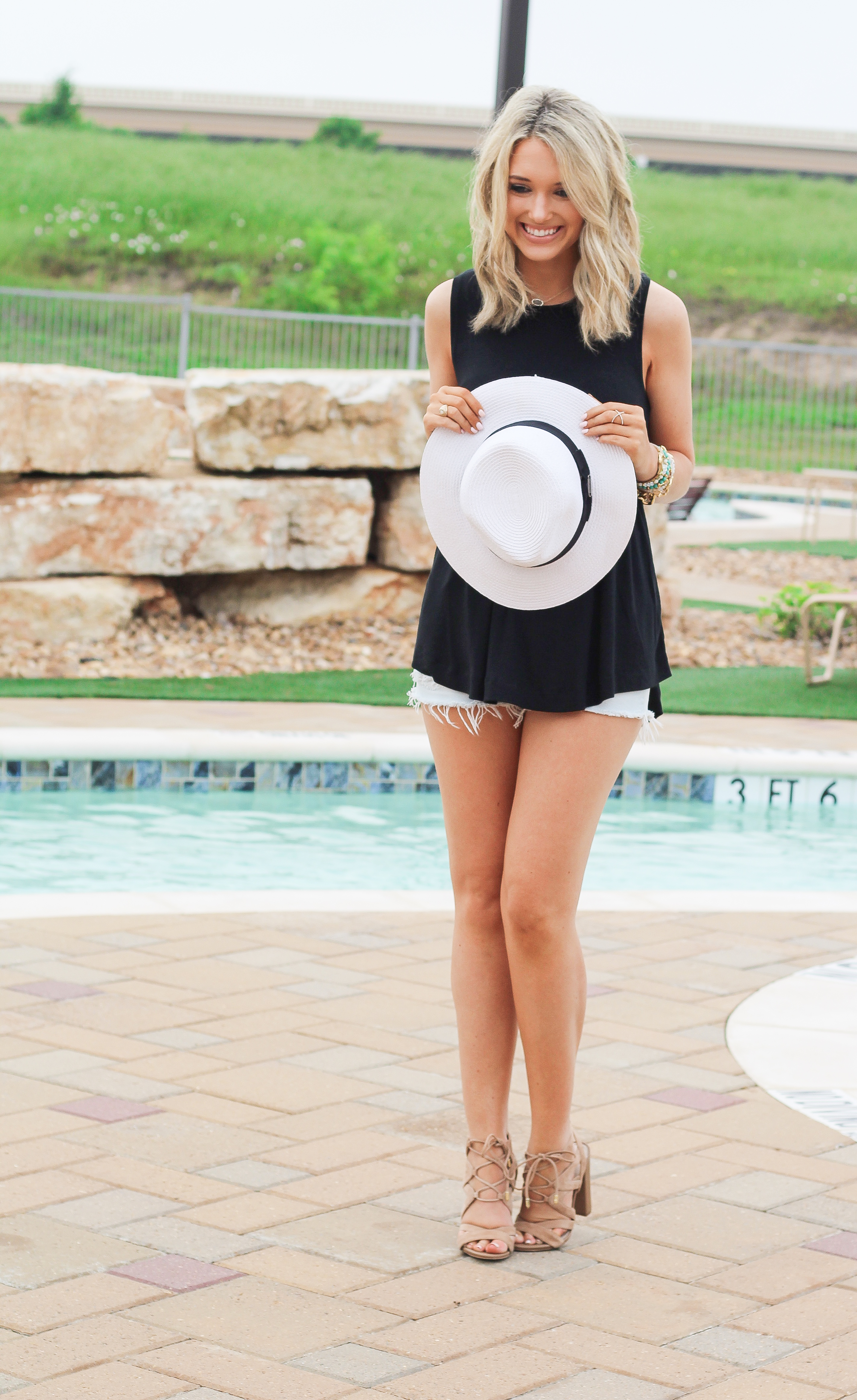 Top: Target | Shorts: Nordstrom | Shoes: Nordstrom | Hat: Sold out (similar)
Today I am sharing one of my favorite ways to make a simple outfit much cuter: HATS! I got this black and white hat last summer and have worn it so many times. It is the perfect way to take an outfit to the next level!
This last week has been insane busy for me! First, I have a 40 page paper due this Friday… I  HATE writing papers so it's been pretty brutal! Second, I have had tons of career decisions to make so it has been very hectic. I'll let y'all know more about what I'm doing when everything is finalized!
I hope everyone has a great rest of the week! If you live in the Houston area or any areas of flooding, please stay safe!!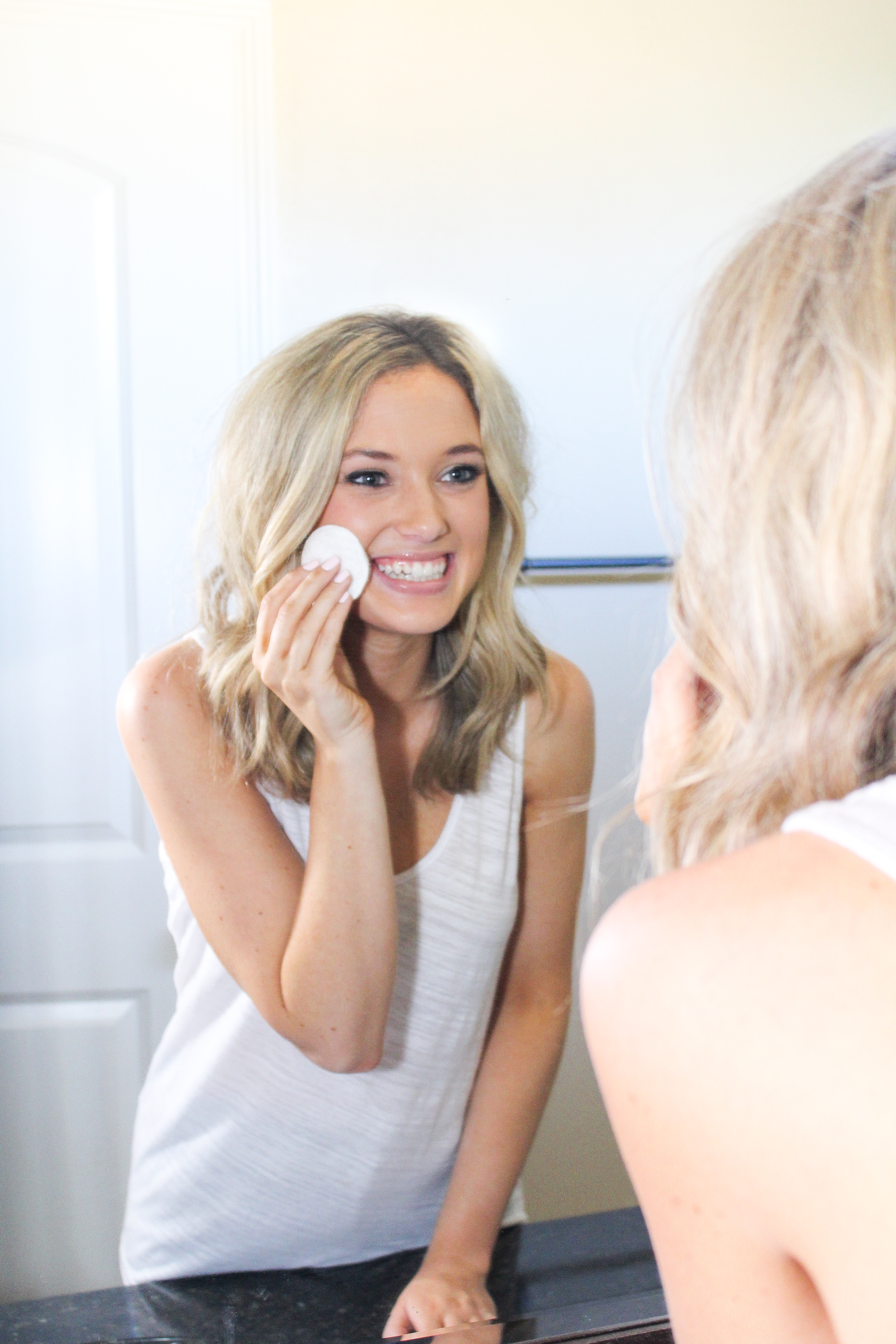 Skincare: Rodan and Fields
Happy Monday everyone!  Today I am going over my skin care routine and the products that help me get smooth skin. Ever since I was in jr. high, I've struggled with very splotchy skin. My skin tone is not even at all! I have tried tons of products but nothing ever seemed to work until I tried this Reverse System by Rodan and Fields. Just a little back story, Rodan and Fields was developed by the same dermatologist that made Proactive. What I love about this company is that they have products for all skin types. I personally use the Reverse system because I have issues with red spots on my face. The kit comes with an exfoliator (this makes my skin SO soft), a toner (I feel like this helps my dark spots the most), two types of gels, and a great facial sunscreen!
If you aren't sure what type of system to use, just head to Kwaybright.myrandf.com and you can take a quiz! It will tell you exactly what you need. If you have any questions, you can contact my rep, Kristin Waybright at kristinwaybright@gmail.com. I hope everyone has a great week!!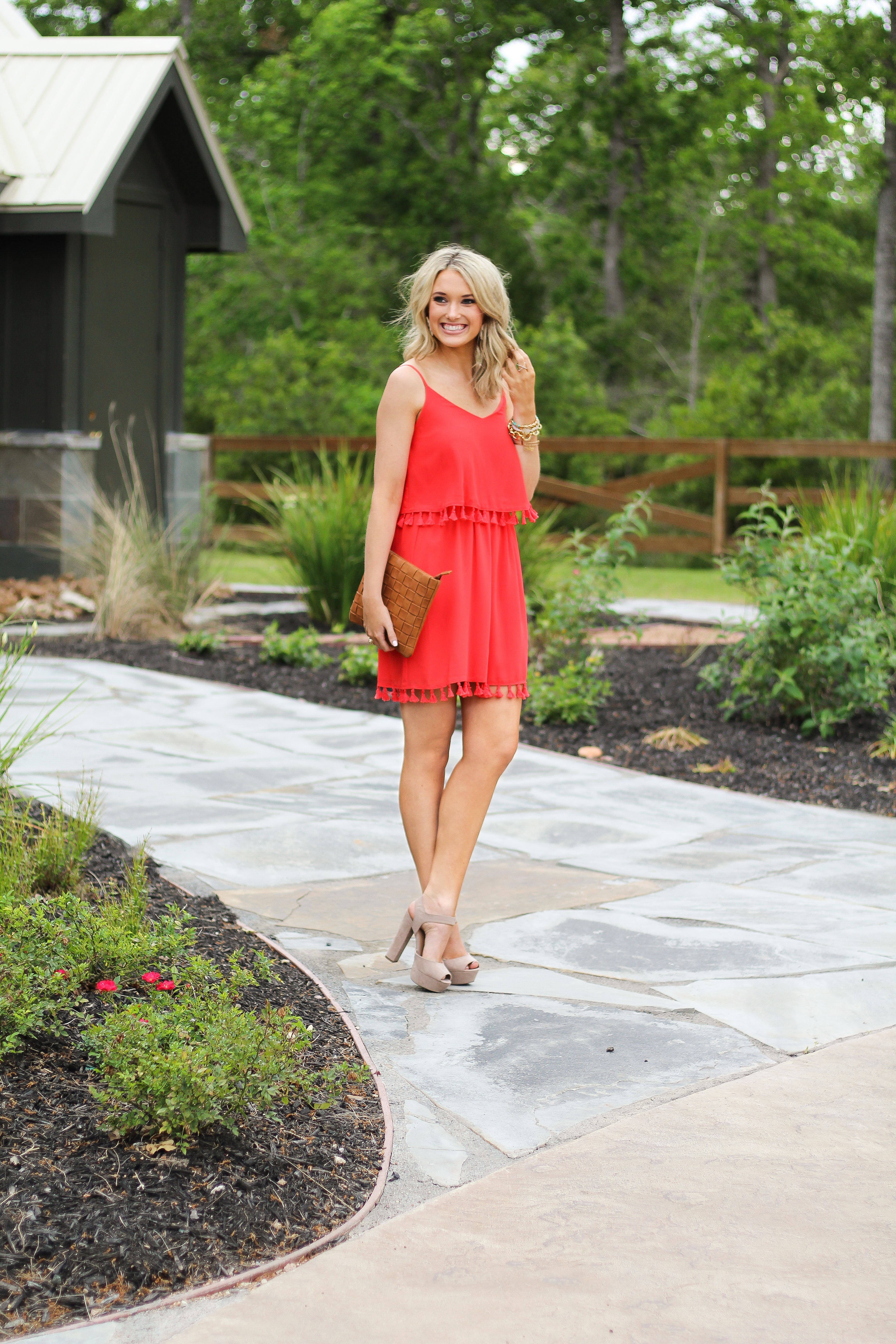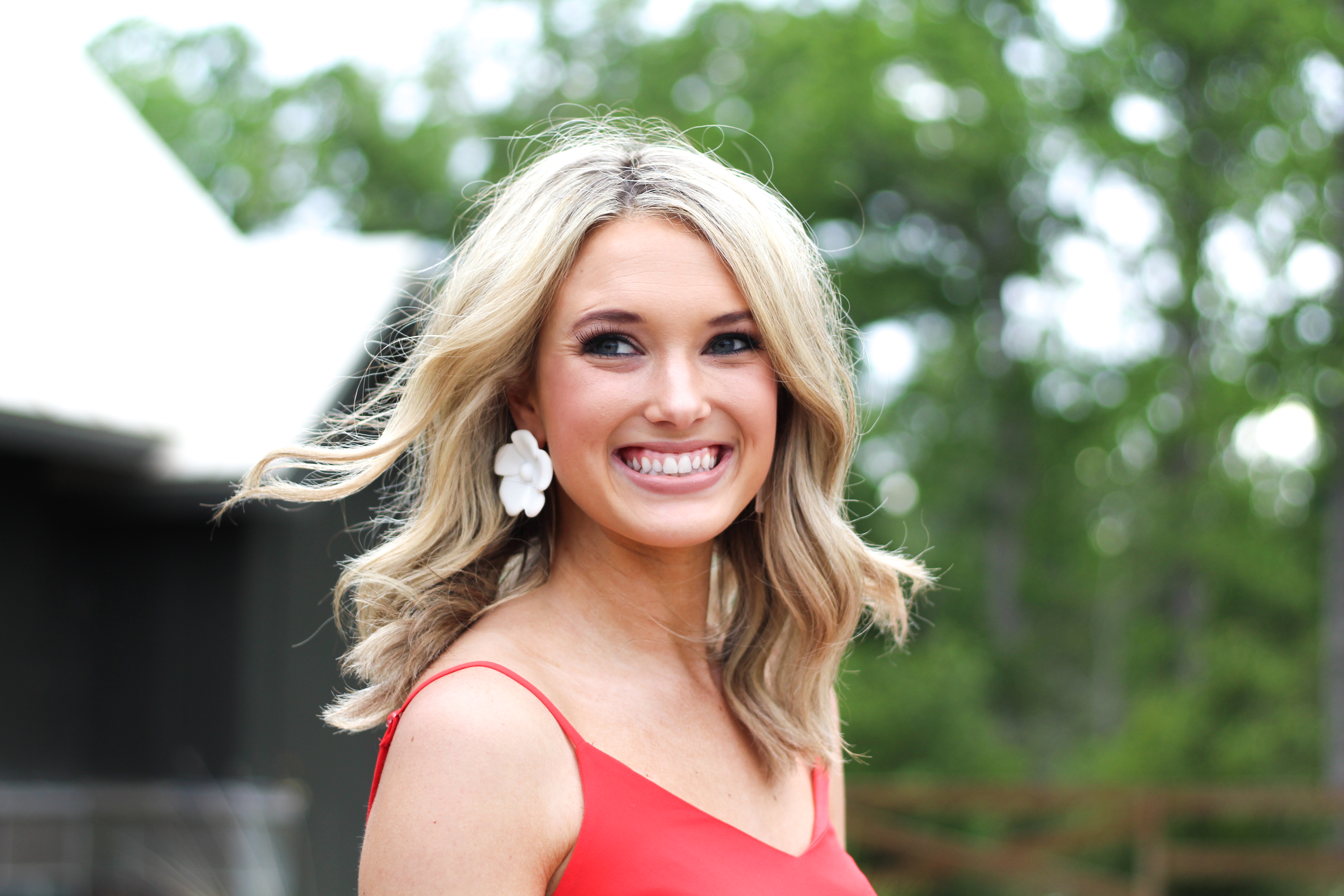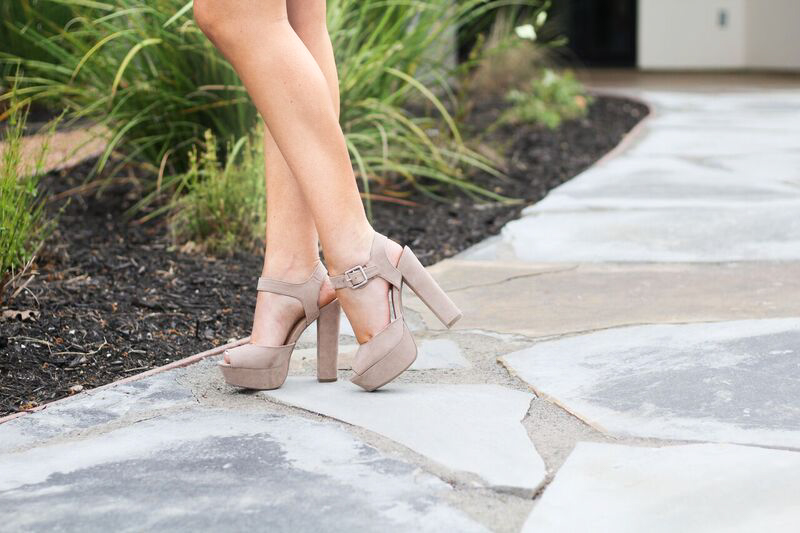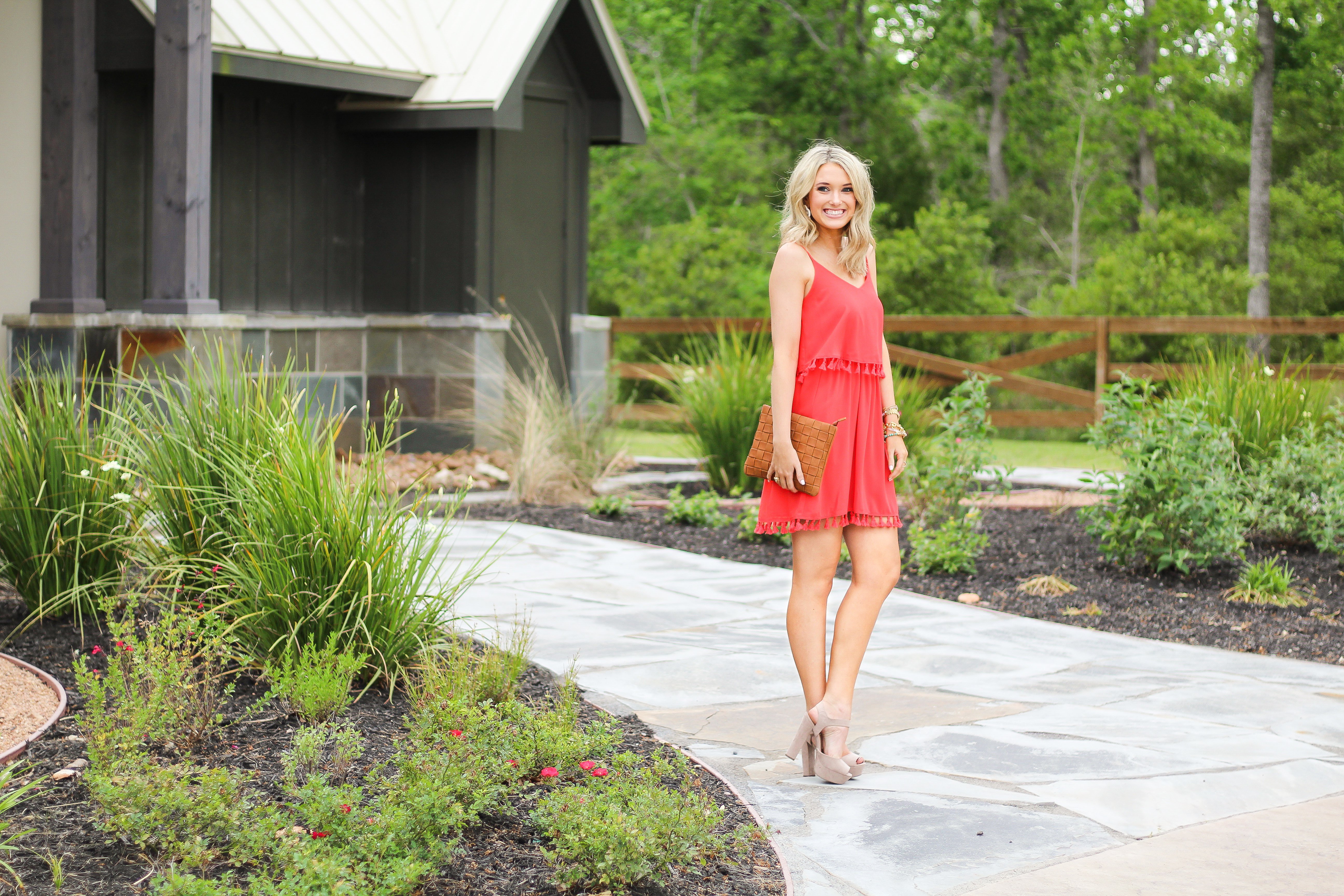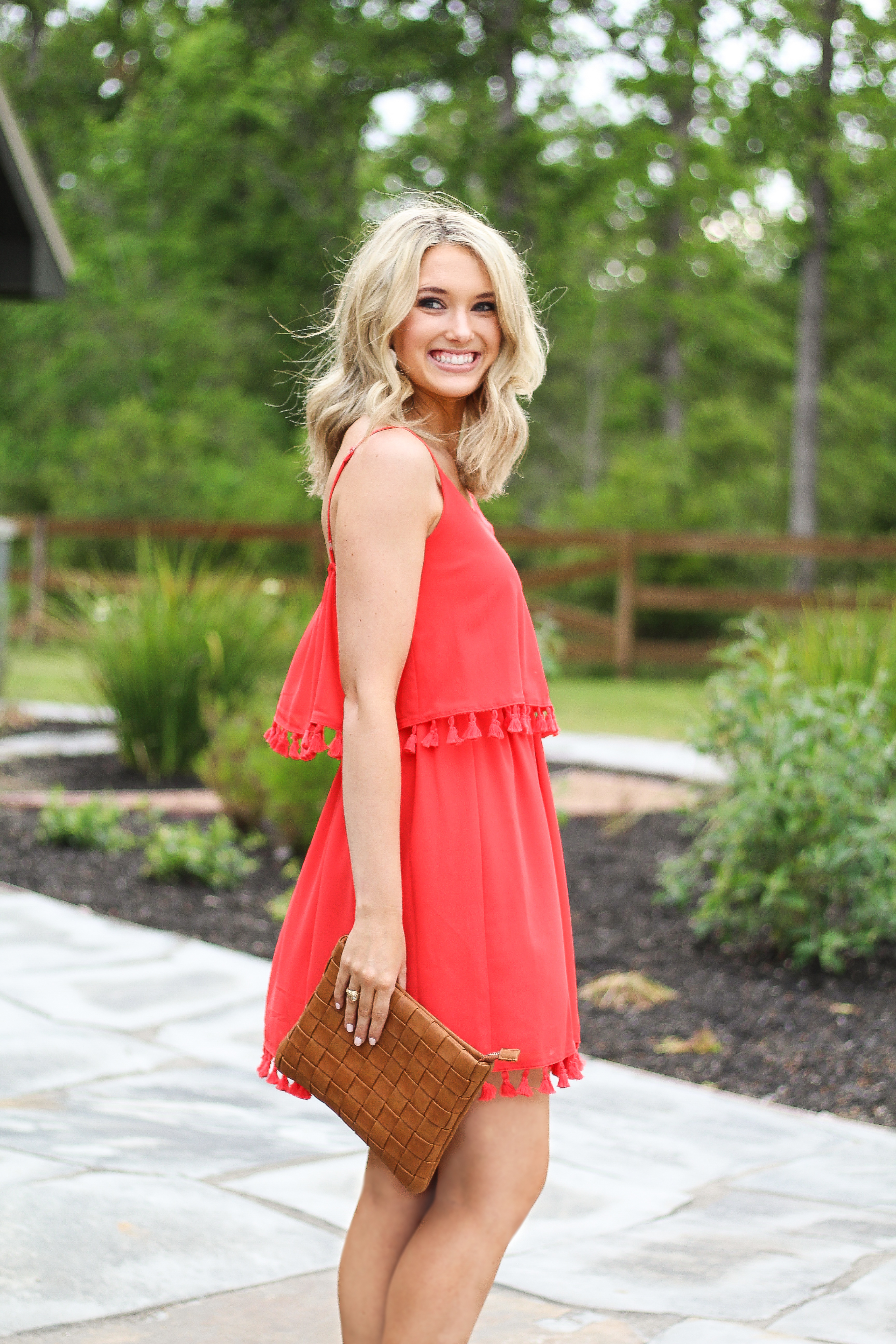 Dress: Target | Shoes: Target | Earrings: Bauble Bar | Clutch: Target
By now I think everyone knows I love a great steal, but this outfit has to be one of the best! My entire look is from Target (everything except the jewelry) and is very affordable. I love the little tassels on the dress and the color makes it so much more fun! Sometimes when I buy shoes at Target they are very cute, but not comfortable. I am happy to say that this is not the case for these heels! I know they look super tall but the platform makes them easy to walk in and they don't hurt my feet at all (ok maybe they hurt a little after a few hours, but y'all get the point!). Also, this clutch is less than $20 and matches with everything! Don't think you need to spend a lot of money to make a lasting impression. All it takes is a little searching. Have an amazing Sunday and beginning of your week!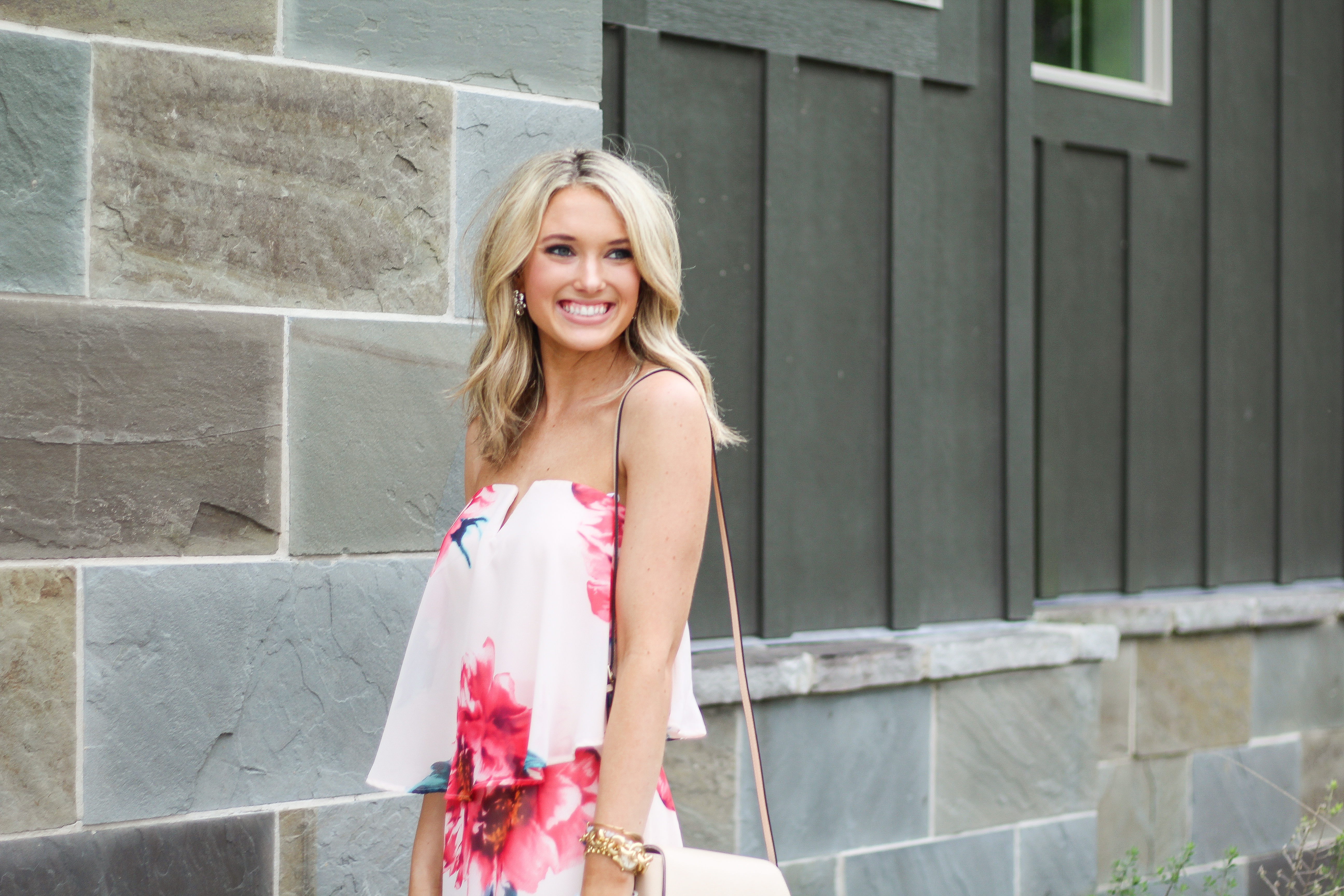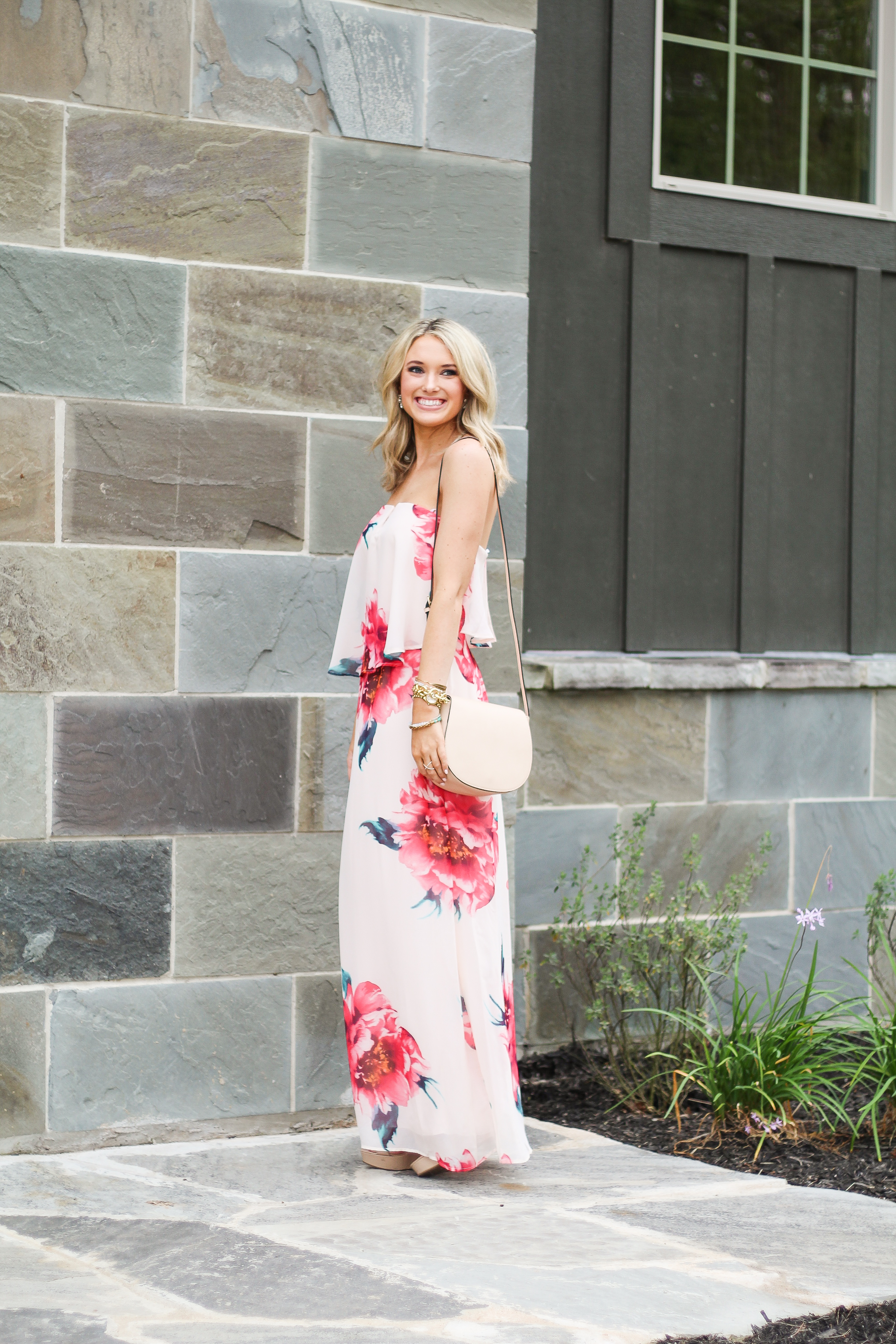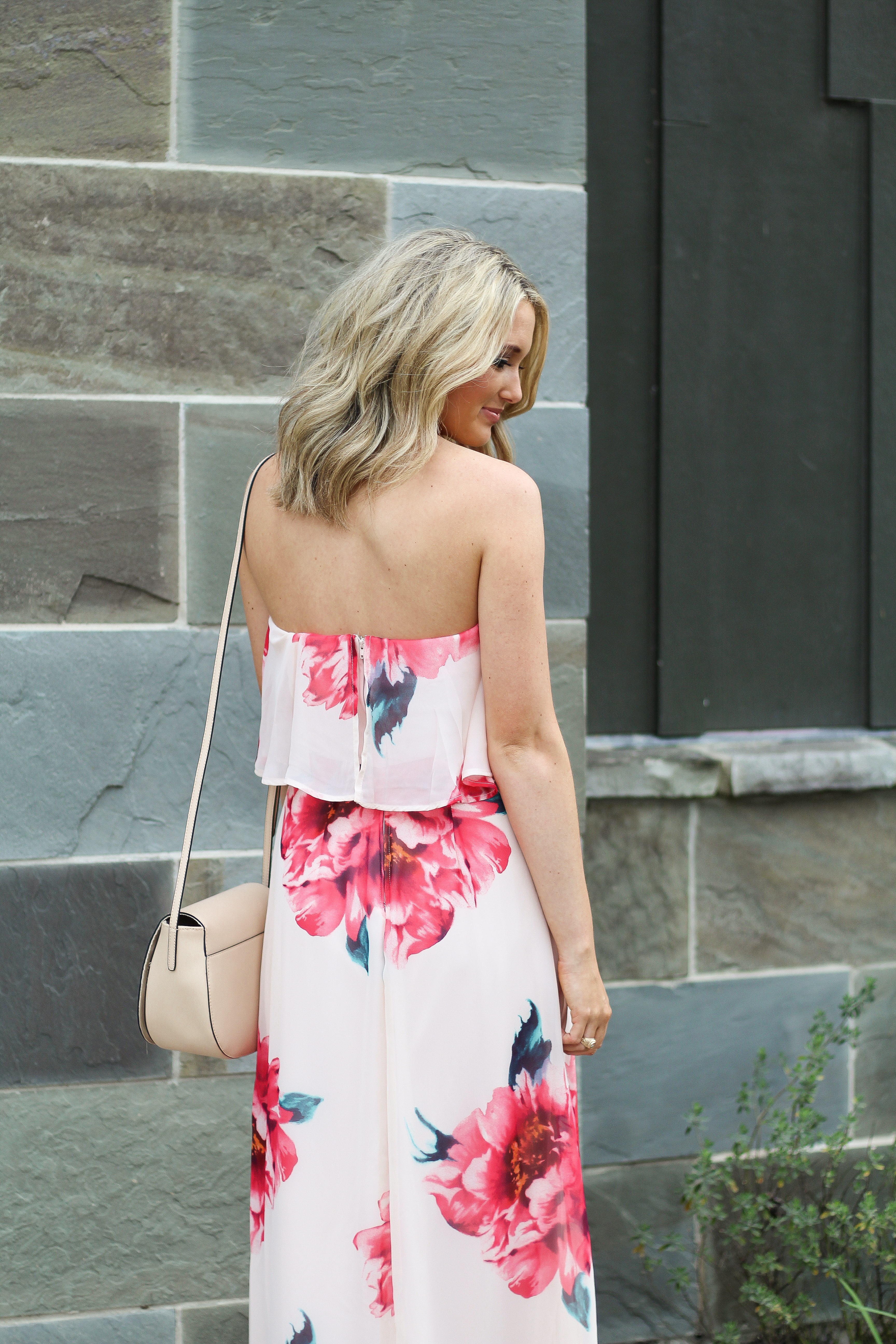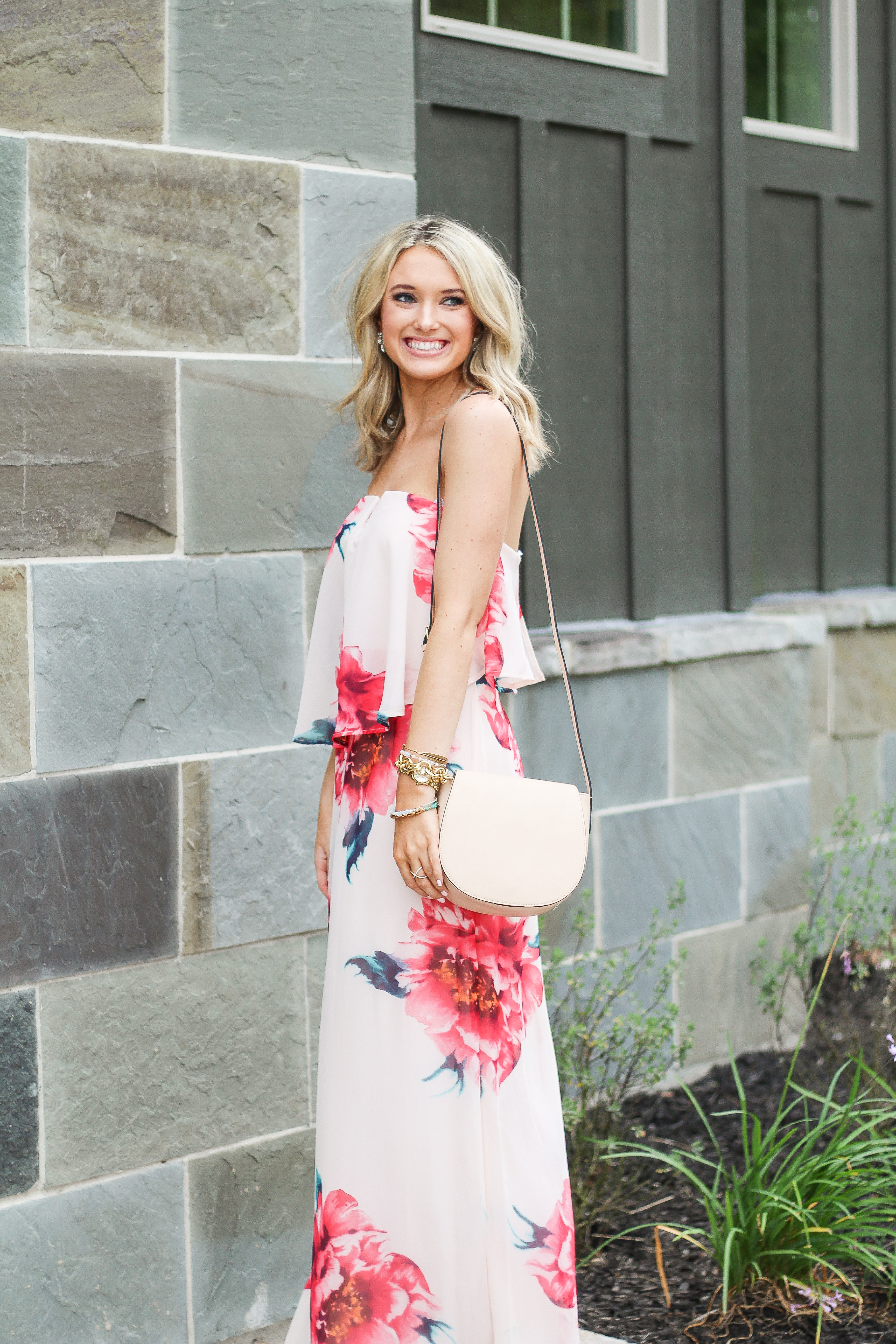 Dress: Nordstrom | Purse (similar): Target | Bracelet: Bauble Bar
 I posted a picture of this dress on Instagram on Monday and y'all seemed to LOVE it so I was praying it would still be in stock by today! Good news- Nordstrom has almost every size in stock – YAY! Y'all this dress is just too pretty for the price (it's less than $55!). If you have any nice event coming up and you want to look fabulous without breaking the bank- this is your dress!!! It also comes in white and navy so I'm seriously so tempted to buy it in those colors as well! The fit is SO slimming and comfortable at the same time.
I hope everyone has a great rest of the week!!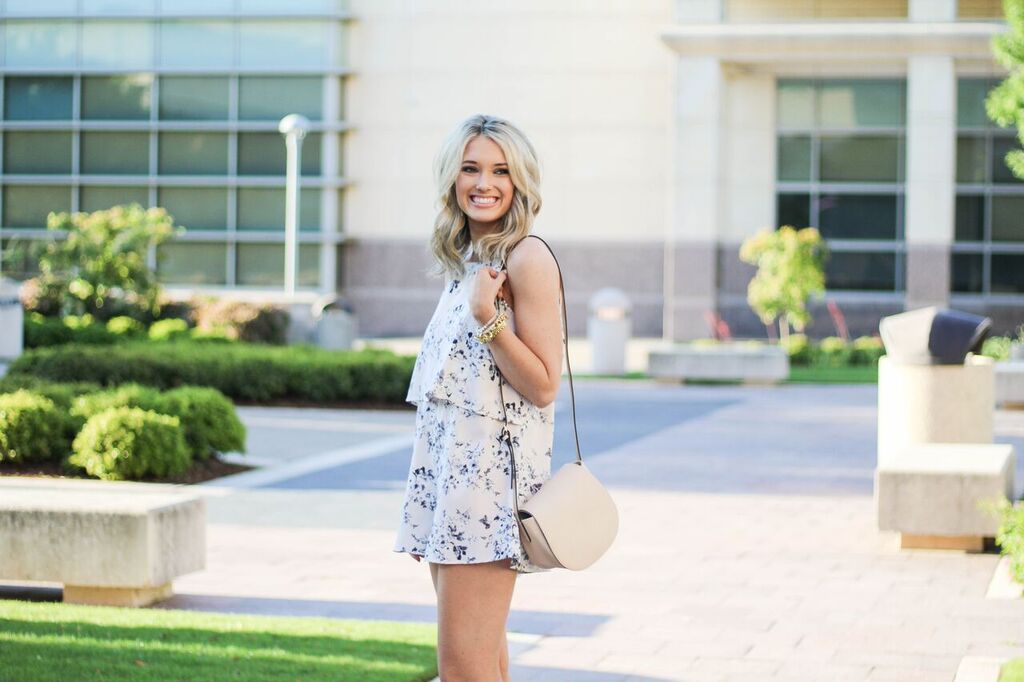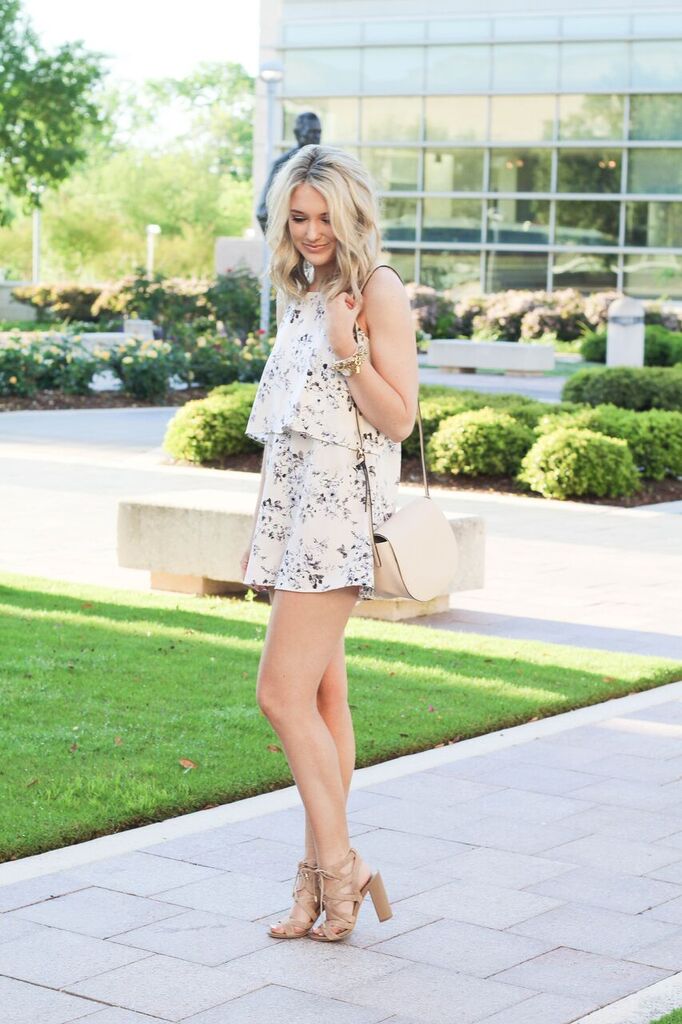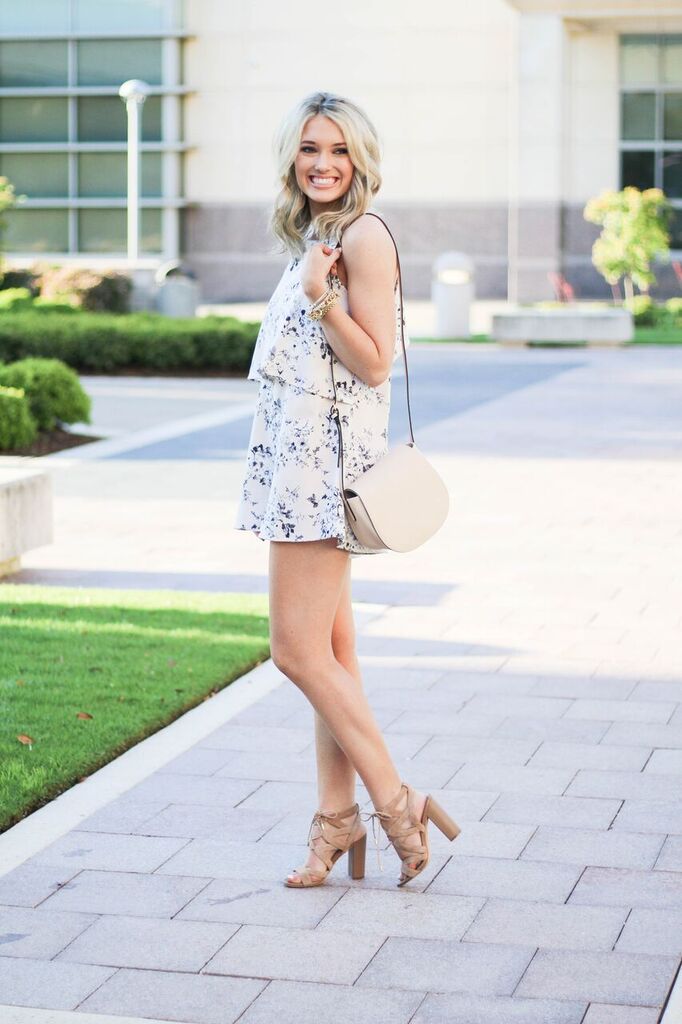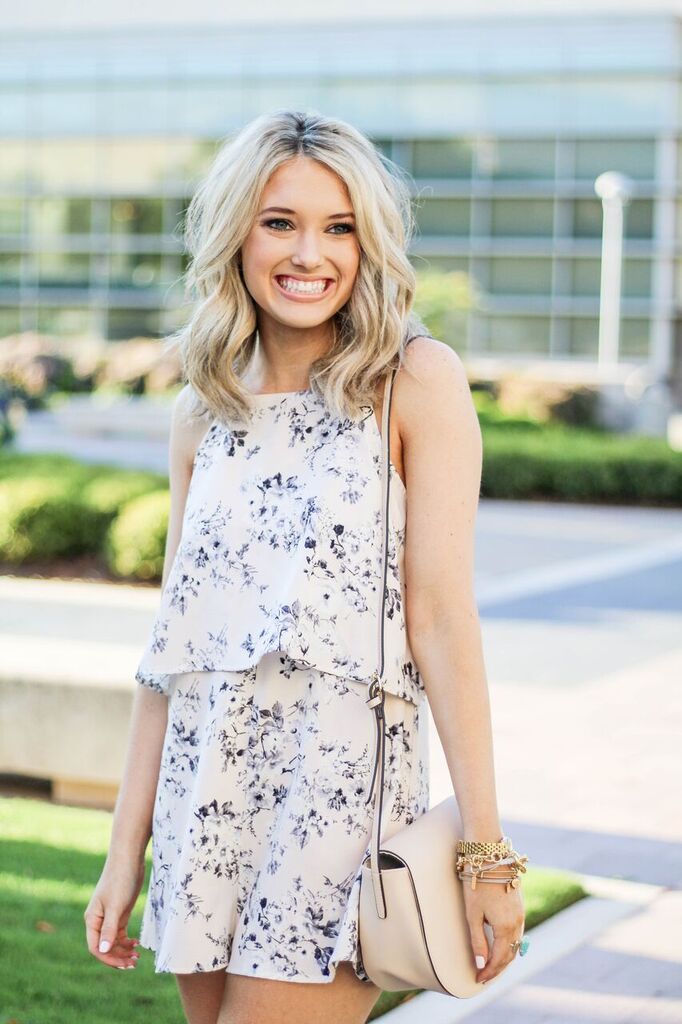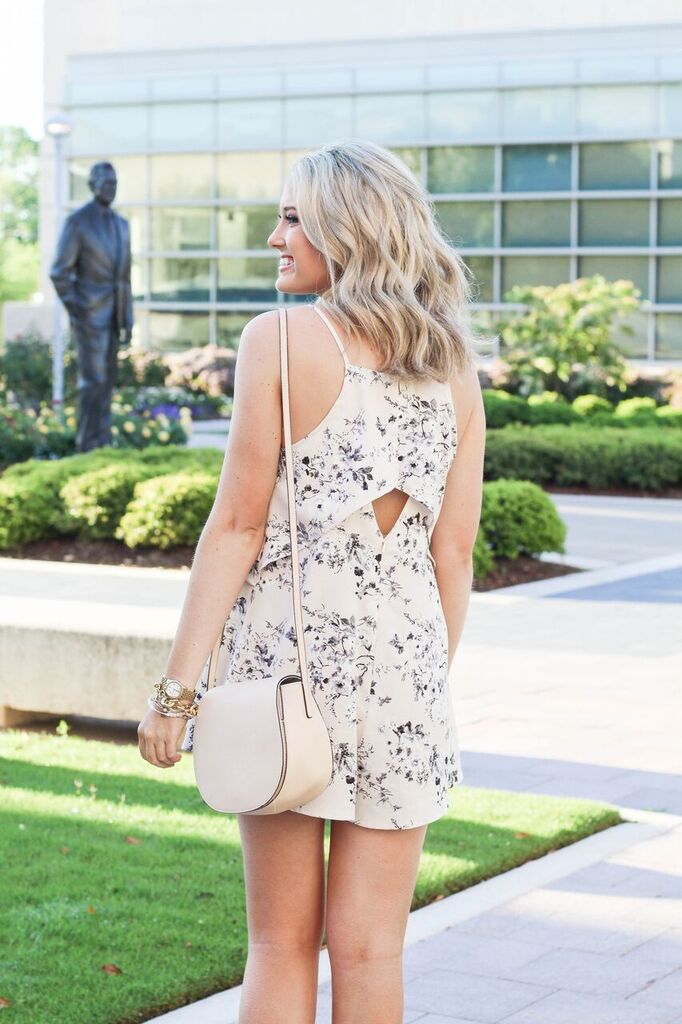 Romper: Nordstrom | Purse: Target| Shoes: Nordstrom (Now 25% off!)  | Bracelet: Bauble Bar
Happy Hump Day!! Is it just me or is this week going by SO slow?! But today I am beyond excited to head to Dallas for a Blogging event hosted by Katey McFarlan, Alyson Haley, and Ashley Robertson. I can't wait to learn more about the blogging industry so that I can hopefully  make this my career some day!
Last week I was shopping online (lol when am I not?) and I saw this romper. I thought it was super cute but couldn't tell whether or not it would fit me right. A couple days later I was at Nordstrom and saw it again, so of course I tried it on and I'm SO glad I did! This romper is so flowy and fun… perfect for a weekend getaway or brunch with your girlfriends! It runs a little big.. I'm wearing an XS.
I also just saw that my favorite sandals are on sale! Y'all, I seriously wear them ALL the time.. they match with everything!
Well I hope everyone has a great rest of the week! I can't wait to tell y'all how the event tonight goes!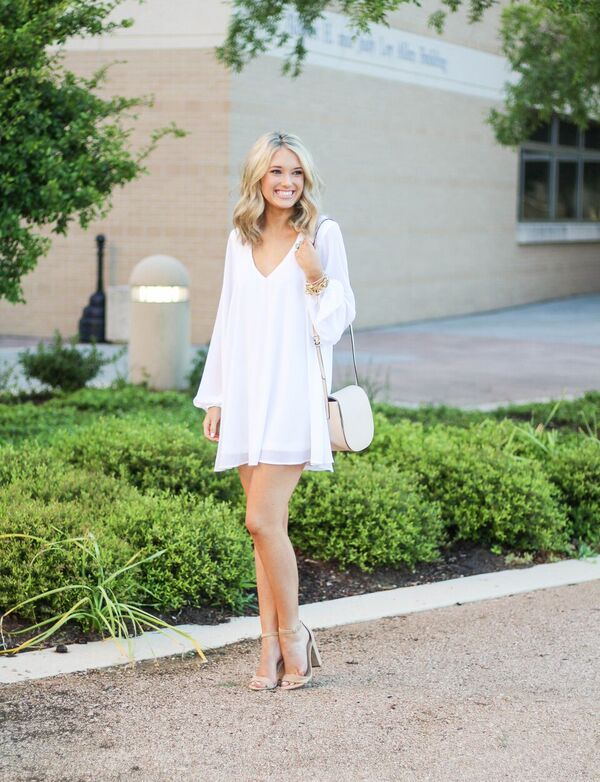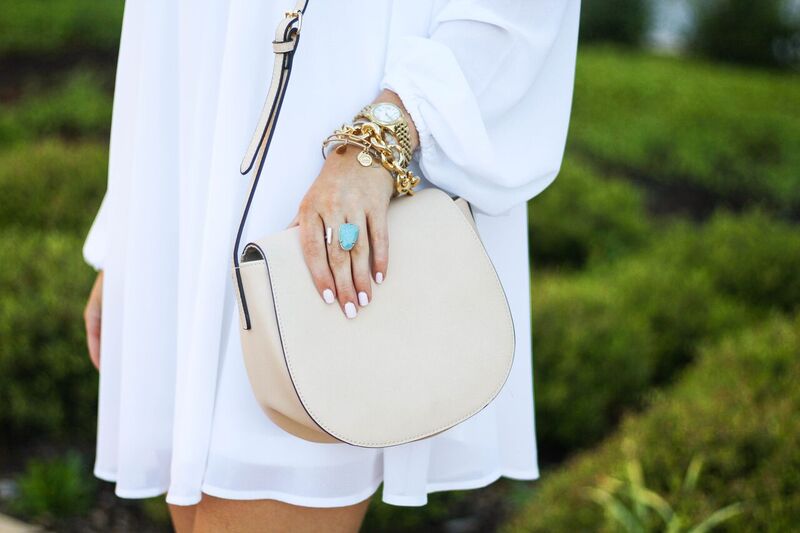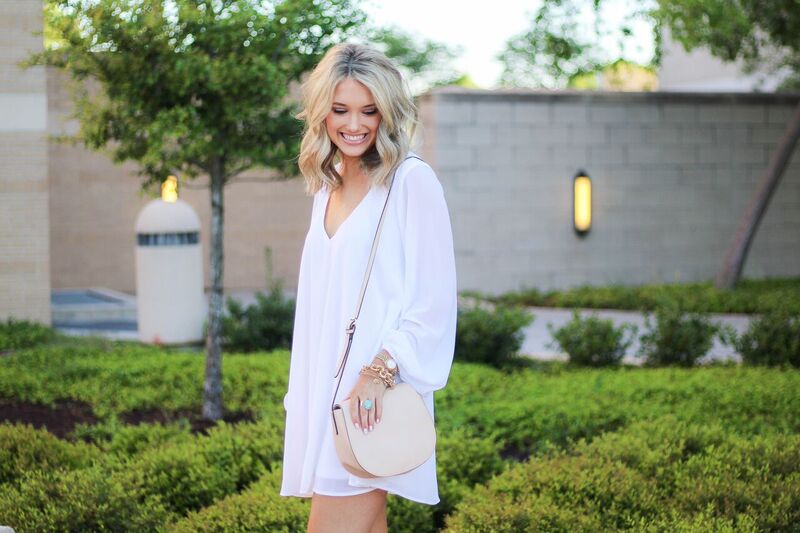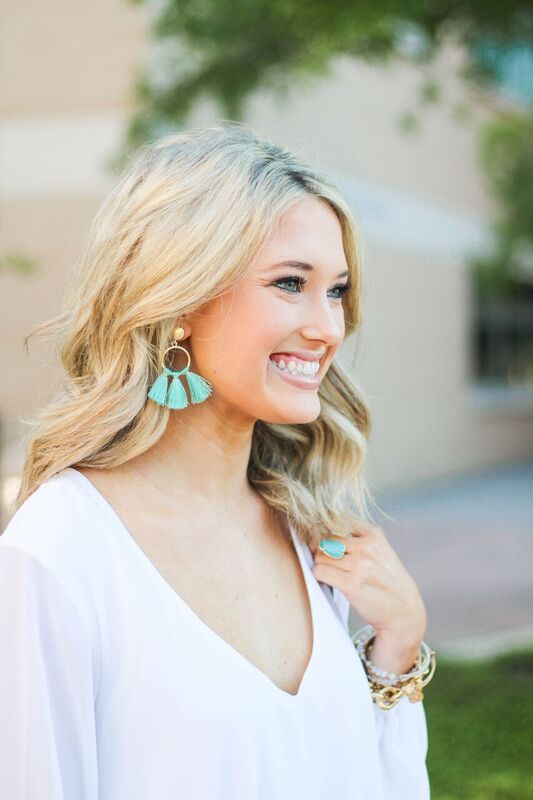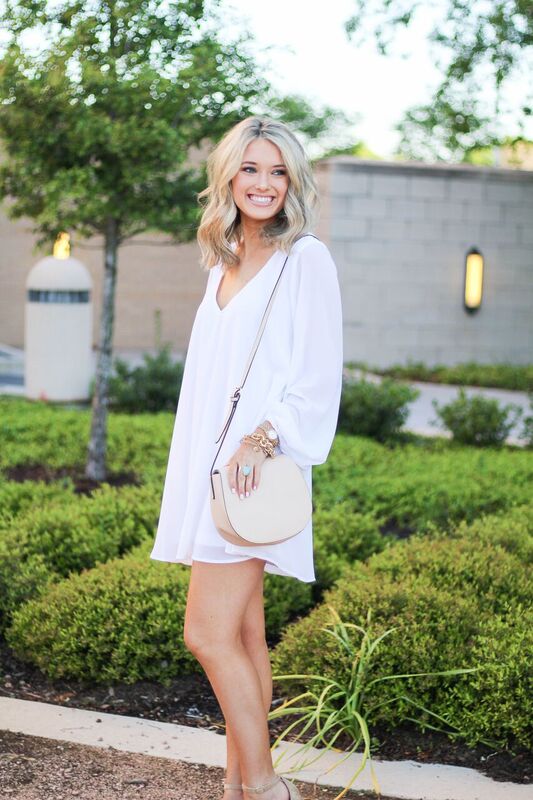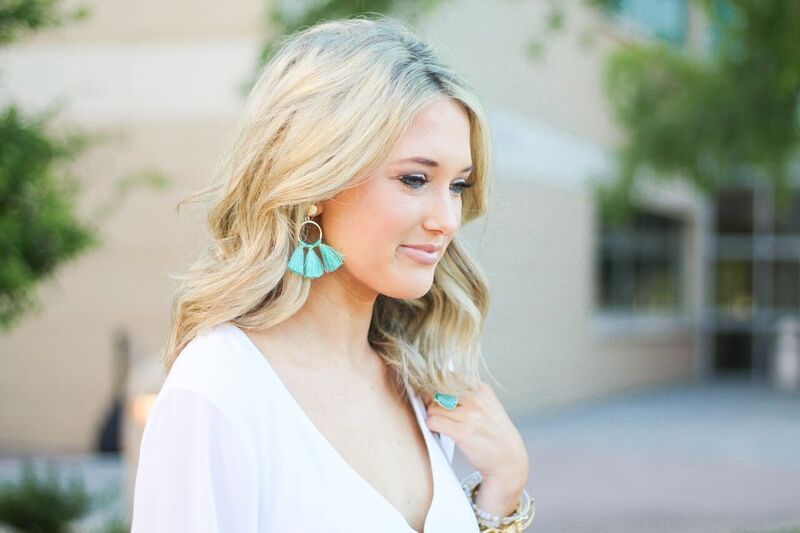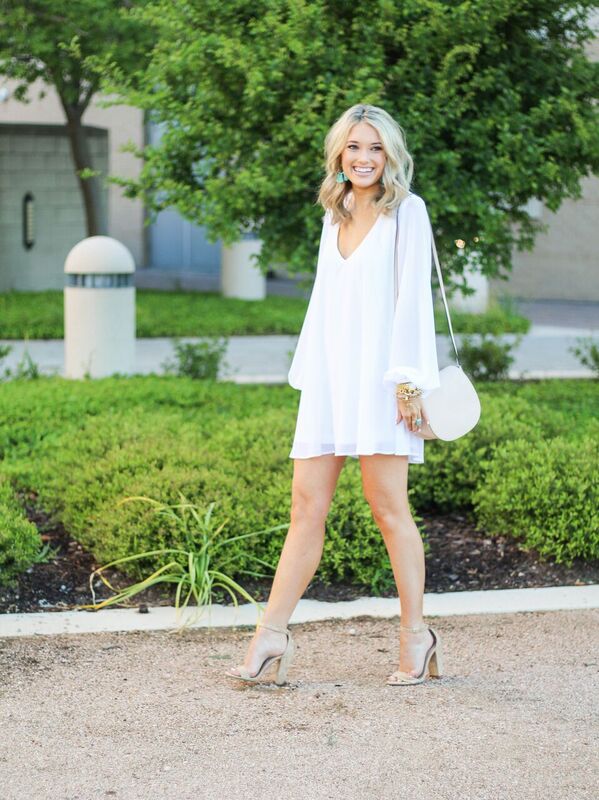 Dress: Show Me Your Mumu (also love this and this) | Shoes: Steve Madden | Purse: Target (under $30!!) | Earrings: Bauble Bar | Bracelet: Bauble Bar | Ring: Kendra Scott
Today I'm sharing one of my favorite looks… a pretty little white dress! Show Me Your Mumu has so many great prints but I wanted to go for more of a simple look. I just got these tassel earrings from Bauble Bar and I LOVE them. I'm gonna go ahead and apologize for how often I'll wear them them this Spring cause I have a feeling they'll match with EVERYTHING! Also, I can't tell y'all how excited I was to get this purse in the mail. It's from Target and is less than $30… go get one before they sell out!!
This past weekend, I went to the hill country (Fredericksburg area) to celebrate my step dad's 60th birthday and it was SO much fun! I got to get away from work and school and spend time with my and Daniel's family… It was great! Now I just have to get back in the swing of things and work on some upcoming posts for y'all!