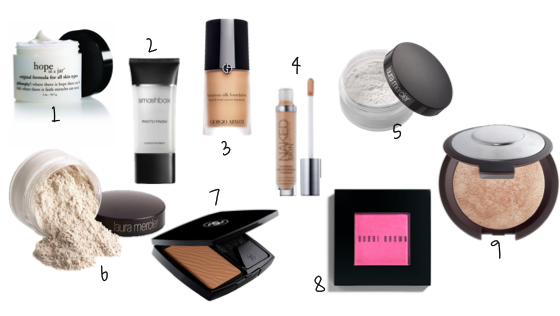 One | Two | Three | Four | Five | Six | Seven | Eight | Nine
For those of you who know me, y'all know I absolutely LOVE makeup! Sephora is my happy place (when it's not crawling with people). I have spent tons and tons of late nights staying up watching makeup tutorials and filling my online shopping carts with all the products they use (then removing almost everything, except the products I absolutely HAVE to have!) I thought I would start off by going over all of my favorite face products because I have found these most important. You can get away with wearing cheap mascara and lip gloss, but when it comes to your skin, don't downgrade!
First off, I have VERY dry skin. Many of these products here are made for dry/normal skin, so just keep note of that if you have oily skin!
The first thing I do is apply this moisturizer. I can't tell y'all how many moisturizers I have tried, and this one is by FAR my favorite! It does have an oil base, so this product is for dry skin only!
Next, I prime my face with this Smashbox primer. I'm not gonna lie, the first time I used this product, I was a little skeptical. The consistency was very different from anything I had ever used, but I must say I love it now! It completely smooths out my face which makes my foundation go on so much better!
After trying TONS of foundations, this one has been my favorite! I had read about it on several different blogs, but could never bring myself to spend that much money on a foundation. Is it worth it? YES. Again, this product is made for dry/normal skin. One of my friends who has oily skin did not like it- just a heads up! (I apply my foundation with this brush)
Next I use this concealer, which is AMAZING. This is actually the first concealer I have ever used that did not dry out and look gross on my skin. It glides on perfectly and helps cover the horrible bags under my eyes. I do buy my concealer a couple shades lighter than my skin because I like those areas to be highlighted. ( I blend my concealer with this sponge-I like it better than the beauty blender and it's half the price!)
I then set my under-eye areas with this powder. People ask me all the time why I use a different powder under my eyes than the rest of my face. There are a couple reasons why I do this. One, this powder has a tiny bit of shimmer to it which really brightens the part of my face that desperately needs brightening. Two, the skin under my eyes is much thinner than the rest of my face. This powder is nice and light, which helps the powder not clump and get in my creases! (I apply my powder with this brush)
I set the rest of my face with this translucent powder. This is a great product- Laura Mercier is known for their amazing powders! (I apply my powder with this brush)
After I am done with all those steps, I switch over to doing my eyes (that will be a tutorial later) and after that, I finish my face with bronzer, blush, and highlighter. I love this Chanel bronzer because it is very natural looking. I'm really not into having super dark lines on my face. I then use this blush, which is GORGEOUS! If you like pigmented blushes, this is the product for you(I apply my blush with this brush). I finish off by using this Becca highlighter, which has been recommended by countless bloggers and celebrities. I think we can all agree that Khloe Kardashian's highlight is always on fleek, and this is what she uses! (I apply my highlighter with this brush)
Last but certainly not least, is this finishing spray (not pictured above). I love love love this spray so much! I ran out last week and had to go to MAC immediately to get more. It truly is the perfect final touch to your makeup!
Well, if you actually read this entire post, good for you! Sorry, it was a long one. If you have any questions about any products, please don't hesitate to email me at eherren@champagneandchanel.com. I would love to answer your questions. Have a great weekend everyone!