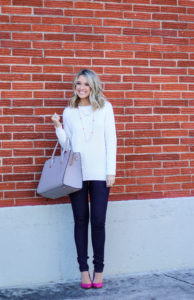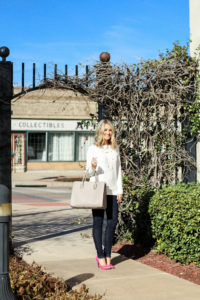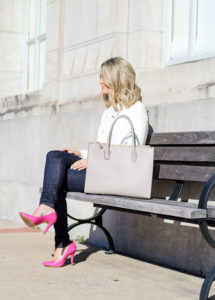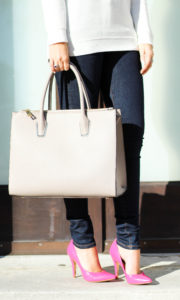 Sweater | Necklace | Jeans | Similar Shoes | Purse
My name is Emily Herren and I am the founder of Champagne and Chanel. After years of stalking countless fashion bloggers, I have decided to follow my heart and start my own blog! Everyday I would scroll through my Instagram feed and think to myself, "wow, I wish I could be like them!" About 4 months ago, I turned to my boyfriend, Daniel, on the couch and told him I'm actually going to do this! I am setting aside my fears starting with this post.
Now lets get to the good stuff- fashion!
I always find it funny how people in Texas are so indecisive when it comes to the weather. In September, all we want is the cold. We can't wait to wear our riding boots, blanket scarves, and chunky sweaters! However, the second it drops below 40°F, we're like "Heck NO! Give me back my Texas heat!" Although it's still a little chilly outside, adding a pop of color, such as hot pink (my fav!) is the best way to look forward to spring! I absolutely love this sweater from Forever 21 (under $30!) paired with this beautiful Kendra Scott necklace (that my sweet sister, Kaitlin, got me for Christmas!) Unfortunately my pumps are sold out, but I found some similar (almost identical) here! I found this handbag at H&M for under $50, when it looks like it cost $1000! The quality is amazing as well!
Anyways, thank you so much for taking the time to read my blog! If you have anything specific that you would like me to blog about, please don't hesitate to reach out to me!